Large trucks have the potential to cause terrible accidents. Whether the victim is an employee or a bystander, large truck accidents are frightening and tragic. The tragedy of a truck-related fatality is compounded when the investigation reveals that the incident could have been prevented. Maintenance failures are a major cause of preventable trucking accidents. Although we cannot turn back the clock, our Oakland truck accident law firm is committed to holding companies responsible when their actions (or inaction) leads to a preventable tragedy.
Mechanical Issues Eyed in Fatal Pittsburg Truck Crash On Monday March 16, a big rig truck slammed into a Pittsburg restaurant killing the driver. An investigation by ABC7 News suggests maintenance issues may have led to the incident. ABC 7 learned that Roby Trucking, the company that owns the truck involved in the accident, has received numerous violation notices from the California Highway Patrol ("CHP"). The records show a long history of problems involving safety and maintenance including issues with steering, brake, and other mechanical systems. A CHP inspection last fall found the company had an unsatisfactory performance in all categories. Two examples of problems noted in CHP records include a big rig driven despite a missing lug nut and another overloaded by 16,000 pounds.
The possibility that a mechanical failure led to the Pittsburg tragedy doesn't seem to have come as a surprise to some current and former employees of Roby Trucking. An employee who spoke anonymously told reporters that he has seen a wide range of maintenance problems on company trucks including problems with the brakes, tires, and oil lines. Another individual, a former office manager with the company, said "It was about money. It was always about money. It was never about safety. It wasn't about their drivers. It wasn't about the public."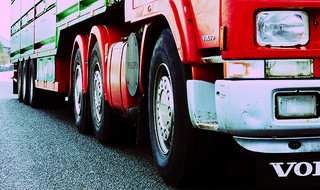 Large Truck Crash Statistics The National Highway Traffic Safety Administration ("NHTSA") reports that there were 333,000 large trucks (vehicles with a gross vehicle weight rating in excess of 10,000 pounds) involved in crashes in the United States in 2012. These large truck accidents led to 3,921 deaths and 104,000 injuries. In California alone, 244 people died in large truck crashes during 2012. These figures represent an 18% increase in injuries and a 4% increase in fatalities over 2011.
IIHS Confirms the Danger Posed by Defective Trucking Equipment A Q&A webpage from the Insurance Institute for Highway Safety ("IIHS") takes a closer look at large truck accidents, noting they account for one in ten highway deaths. As the IIHS explains, a network of both federal and state authorities set standards for large truck safety. Responding "Yes" to whether defective equipment is a factor in truck crashes, the IIHS cites a Washington study that found that trucks with defective equipment were involved in twice as many crashes as trucks with no defects. That study further found that brake defects existed in 56% of tractor-trailers that were involved in collisions and steering-related defects existed in 21% of the trucks involved in studied crashes. Additionally, a study that looked at large truck crashes nationwide between 2001 and 2003 found that post-crash inspections revealed at least one mechanical violation in 55% of the trucks, including nearly 30% that had a defect serious enough to require taking the vehicle out of service immediately had it been identified.
Holding Companies Responsible for Large Truck Crashes Caused by Maintenance Issues One of the hardest things to tell a grieving family or injured person is that the accident that caused their pain could have and should have been prevented. When maintenance problems lead to a large truck accident, the victims may have a civil personal injury or wrongful death claim against the trucking company. Our Oakland truck crash injury attorney can help hold the companies responsible for their safety failures. Call to learn more.
See Related Blog Posts:
Commercial Truck Accidents and Legal Liability: Who's Responsible When Trucks Cause Injuries?
Hit-and-Run Crash in Fremont Between Truck and Motorcyclist Leaves Latter Dead and Unanswered Questions
(Image by Clare Bell via Flickr)