In recent months, we've often discussed the issue of elder abuse, including the problem of nursing home neglect. These posts contain some truly distressing information about the frequency of abuse and the utter callousness that the perpetrators show. It is good to be reminded that courts and juries are working to hold people responsible for these acts. As a Sacramento elder abuse law firm, we hope these verdicts serve to compensate victims, punish wrongdoers, and warn others that the law will hold them responsible for the mistreatment of our elderly population. In cases of nursing home abuse, we hope these verdicts remind companies that placing profits over care will not be tolerated. We also think it is important to keep in mind that these verdicts are victories, but that each one represents one or more victims of cruel acts who deserve to be remembered.
Boice v. Emeritus Corporation: Case Against Senior Care Corporation Ends in Huge Verdict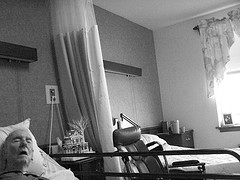 Twenty-three million dollars is a verdict people typically associate with corporate litigation, lawsuits between large companies over a business deal gone wrong. On Friday March 21, it was the amount of punitive damages that a Sacramento jury found due in a case of elder abuse. According to the Sacramento Bee, Joan Boice moved to Emeritus at Emerald Hills, an Auburn facility operated by a major senior care corporation, in September 2008. Boice, who already suffered from Alzheimer's disease, developed bedsores while at the facility. According to the evidence at trial, a caregiver alerted a nurse to the sores, only to be told "just don't let anybody know" because disclosing the sores would have meant Buice being removed from the facility. This was just one element of a case involving systemic understaffing and inadequate training, practices that placed profits above care. By the time Boice left Emerald Hills in December, the sores had grown serious. She died only three months after leaving the center and bedsores were listed as a significant condition leading to her death.
Boice's family filed a civil suit in Sacramento Superior Court. The court divided the trial into two phases. In the liability portion, the jury found Emeritus guilty of fraud, oppression, and maline in Boice's death. They awarded $3.875 million for Boice's pain and suffering and $250,000 to the family for the loss of her companionship. However, the judge noted that California law places a $250,000 cap on pain and suffering awards in medical malpractice cases and said that limit applies in Boice's case. On Friday, the jury concluded the second portion of deliberations and handed down $23 million punitive damages verdict against Emeritus Corporation. Plaintiffs' counsel had actually recommended more than twice that figure, suggesting that the jury give the company a "timeout" and award a figure equal to twelve days of revenue at an average of $4.3 million per day.
"The World Needs to Know What's Going On"
As we've often noted in these posts, no amount of money can ever truly compensate people facing a serious injury or coping with the loss of a loved one. This verdict does not bring back Joan Boice or take undo the suffering she likely experienced in her final months. However, it shows that juries take these cases seriously. If you suspect elder abuse, please speak up and reach out. Our Sacramento nursing home abuse attorney can help you seek justice. One juror's statements following the Boice decision sum it up perfectly, "the world needs to know what's going on — California needs to know what's going on with elder abuse in these homes. We need to open our eyes to what's going on around us."
See Related Blog Posts:
Bedsores: A Serious Medical Ailment and a Possible Warning Sign of Elder Abuse
Study Finds For-Profit Nursing Homes and Other Healthcare Facilities Place Money Above Care
(Photo by Derrick Tyson)