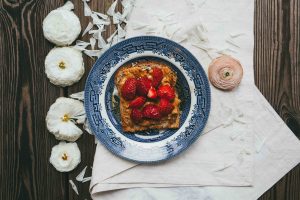 As of March 7, the SoyNut Butter Company has recalled all I.M. Healthy SoyNut butter and I.M. Health Granola due to contamination. According to the Food and Drug Administration, these products have Shiga toxin-producing E. coli bacteria. The company previously announced a voluntary recall of its I.M. Healthy Original Creamy SoyNut Butter, but additional illnesses and investigations led to an expansion of the recall to include the chunky, honey cream, unsweetened, and chocolate varieties. The granola comes in original, apple, blueberry, and raisin and cranberry, which are all subject to the current recall. All sizes of these products should be immediately thrown away.
Reported Illnesses
The U.S. Centers for Disease Control and Prevention are investigating 16 illnesses linked to the SoyNut Butter Company products across New Jersey, Maryland, Virginia, Wisconsin, Missouri, Washington, Oregon, Arizona and California. The first six states have one illness each, while Oregon has two reported illnesses and California and Arizona each have four.
14 of the 16 illnesses were in children younger than 18. Eight individuals were hospitalized and five developed hemolytic uremic syndrome (HUS), a type of kidney failure that is potentially fatal. There have been no reported deaths due to the outbreak.
Understanding E. Coli
E. coli in general is a harmless bacteria that normally lives in people and animals. However, there are types of E. coli that cause illnesses. Shiga toxin-producing E. coli, also known as Verocytotoxin-producing E. coli or enterohemorrhagic E. coli causes illness and is the most common type of E. coli associated with foodborne illness outbreaks.
Each person's symptoms of E. coli can be different though people commonly experience stomach cramps, vomiting, bloody stools, diarrhea, and a low grade fever. Most individuals, particularly healthy adults, will recover from an E. coli infection within a week. However, more severe infections, people with weakened immune symptoms, young children, and the elderly can take longer to recover or experience HUS. While HUS is treatable, some individuals suffer permanent kidney damage, develop chronic kidney issues, or pass away.
Treating an E. coli infection focuses heavily on remaining hydrated. Antibiotics are not used since there is no evidence that they are beneficial.
Recovering Compensation After Food Poisoning
Suffering from an E. coli infection can require hospitalization, medications, and time off of work. Even with health insurance, this can lead to thousands of dollars in bills and lost wages. Individuals who suffer injuries due to foodborne illnesses may have the right to recover compensation from the food grower, packager, or seller, depending on when and where the contamination occurred.
Individuals can file product liability claims based on strict liability, negligence, or a breach of warranty, depending on the circumstances and the law. An experienced product liability attorney can advise people on their rights to recover and the best course of action to do so.
Contact a San Francisco Product Liability Lawyer for Help
Anyone who has suffered physical and financial injuries from food poisoning caused by a business should contact Brod Law Firm right away. To successfully gain compensation, individuals must prove that they became sick due to contaminated food and that the defendant is responsible for the contamination. When the FDA and CDC are involved in the foodborne outbreak, there is additional evidence to help support the person's claim.
Call today at (800) 427-7020 to schedule a free consultation.
(image courtesy of Alisa Anton)