Motorcycle accidents can cause serious, life-altering injuries and even death. Often these accidents are the result of negligent drivers who fail to exercise due care behind the wheel. As a Sacramento injury law firm, we work with the victims of these tragic collisions to help them recover damages, including money that they will need to live with the results of a serious injury.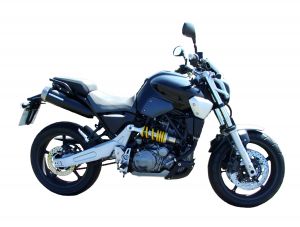 Hit-and-Run Leaves Motorcycle Rider Seriously Injured and Driver Under Arrest
A serious collision between a motorcyclist and a driver occurred in our region earlier this week. As reported in The Sacramento Bee, a van and motorcycle collided in the Citrus Heights area leaving the rider with major injuries. The accident closed the westbound portion of Greenback Lane between Sunrise Boulevard and Birdcage Street for five hours while police investigated the incident. According to the report, the van driver fled the scene and then abandoned the vehicle in a nearby parking lot. Police later apprehended the suspected driver, whom reporters identified as thirty year old Adam McGue of Shasta Lake, and charged him with hit and run with injury.
Rising Popularity, Rising Injury Rates
The popularity of motorcycles has skyrocketed in recent decades. In one of several motorcycle oriented fact sheets, The Network of Employers for Traffic Safety ("NETS") notes that there are now more than 6.2 million motorcycles registered nationwide. Unfortunately, this popularity has led to a significant increase in the number of motorcycle-related deaths, with the number of fatalities more than doubling in the course of a decade. While they still represent only two percent of all registered vehicles, motorcycles are involved in more than ten percent of crashes in the U.S. In 2006, highway crashes left 88,000 riders injured and 4,810 dead. Motorcycle riders were thirty-seven times more likely to die per mile travelled than occupants of passenger vehicles.
As the NETS report notes, motorcycles lack many of the features that help keep drivers of passenger cars safe in accidents. The vehicles themselves provide virtually no protection. This is in stark contrast to the ever-increasing number of safety features in cars such as seatbelts, airbags, and beams engineered to protect occupants in case of a crash or rollover.
Representing Seriously Injured Riders in Northern California
At The Brod Firm, we know that motorcycle crashes can lead to a range of serious injuries. In addition to (relatively) minor injuries like broken bones, "road rash," and torn ligaments, major injuries that can result from a motorcycle crash include:
• Head injuries – From fractured skulls to severe facial scarring, injuries to the head are very common and can occur even if the rider is wearing a helmet.

• Traumatic brain injuries – Even if the skull remains intact, brain injuries can cause permanent mental and physical disability.

• Back injuries – These include slipped discs, facet syndrome, and sacroiliac joint dysfunction.

• Spinal cord injuries – Spinal contusions and compressions can occur, as can injuries that lead to paraplegia or quadriplegia.

• Neck injuries – Serious and painful neck injuries that can result from a motorcycle crash include herniated discs, pinched nerves, and fractures.

• Other serious, life-altering injuries – These include, but are not limited to, internal bleeding, injuries to organs, severe burns, and severed limbs.
We understand that these injuries are not only painful but can also completely change a victim's life. Living with the results of a motorcycle crash can mean huge costs. Beyond medical bills and lost wages (including loss of future earnings), victims may face the cost of modifying a home to make it handicapped accessible. Permanently injured victims may also need to hire health aides and people to help with household tasks that the patient can no longer do alone. Victims may also find they need counseling to address the mental and emotional impact of the crash and resulting injuries.
Attorney Greg Brod represents those seriously injured in Sacramento motorcycle accidents and other Northern California tragedies. Please call for a free consultation.
See Related Blog Posts:
Fatal Fourth-of-July Motorcycle Accident
A Moving Tribute to the Victim of an Oakland Motorcycle Accident
(Photo by David Butler)