Children are often so filled with energy that they appear to bounce from place to place. It is little wonder that trampolines are a beloved piece of equipment in gymnasiums and backyards alike. While they can be fun and can encourage the active exercise too many children lack, trampolines can also be dangerous and trampoline injuries are all too common. When these injuries stem from equipment problems, installation issues, or other safety failures, our Oakland child injury attorney is prepared to work with parents to advocate for their injured children.
Antioch Girl Injured in Trampoline Accident
While, as we'll discuss below, most trampoline injuries occur on home equipment, an East Bay gymnastics center was the site of a frightening accident last weekend. ABC7 reports that a 10 year old girl was attending a Halloween party at Four Stars Gymnastics Academy on Saturday afternoon. As she neared the end of her turn on the trampoline, she jumped up and, instead of returning safely to the trampoline, went flying through the facility's large glass window and landed on the ground. The girl sustained deep gashes on her arms and legs, requiring over 100 stitches. The gymnasium did not provide any comments for ABC7, but reporters looking in from outside the facility spotted three large trampolines standing within a couple feet of large windows.
Trampoline Injury Statistics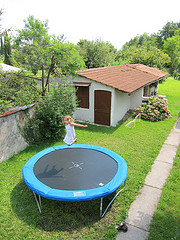 The October/November 2014 issue of the Journal of Pediatric Orthopaedics includes the results of a study on trampoline injuries, specifically fractures, from 2002 to 2011. Using a national injury database, the authors uncovered over one million emergency room visits due to trampoline-related injuries in the decade-long period, with 29% involving fractures. Focusing on patients with fractures, the study found the average age of the patients was 9.5 years and 92.7% were 16 years of age or younger. The fractures were spread pretty evenly between male and female patients. Upper extremity fractures (59.9%) were most common followed by lower extremity fractures (35.7%) with axial skeleton fractures (4.4%) in a distant third place. Notably, older patients were more likely to suffer axial skeleton fractures than their younger counterparts.
Safety Recommendations for Trampoline Use
While the recent East Bay accident involved a gymnastics center, the vast majority of trampoline accidents (95.1%) occurred at home. In 2012, the American Academy of Pediatrics issued a Policy Statement on Trampoline Safety in Childhood and Adolescence strongly discouraging home trampoline use. The statement updated similar past recommendations based on recent literature and studies. A notable change in recent years is the rise of commercial trampoline parks, although the authors note that changes in accident data based on the parks is not yet evident.
Among the conclusions and recommendations in the report: Limit use to one jumper at a time since having multiple jumpers substantially raises accident risk; Padding and enclosures can provide a false sense of safety, but are still important and should be inspected regularly; Trampolines should only be placed on level ground; and Moves like somersaults and flips are linked to severe cervical spine injuries and should not be done in a recreational setting.
Representing Injured Children in Northern California
Trampoline injuries range from simple scratches to fatal or otherwise catastrophic spine and head injuries. All too often, the injuries are preventable and can be traced back to a failure on the part of a manufacturer, installer, or property owner (e.g. home owner in a residential setting or owner/manager of a commercial location). These dangerous decisions can give rise to legal liability via products liability law, premises liability principles, or other personal injury principles. If your child was injured in a trampoline accident in Oakland, San Francisco, or elsewhere in our region, call our Northern California recreational injury attorney. Attorney Brod can help your child recover monetary compensation that will allow them to deal with and move forward from the unexpected tragedy.
See Related Blog Posts:
Playground Injuries: When It Is More than an Everyday Childhood Stumble
Summer Safety Primer: Avoiding Accidental Pool Drownings
(Image by Fabio Bruna)