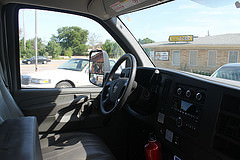 Whether it is to facilitate a do-it-yourself move, to haul equipment for a landscaping project, or for some other transport need, many of us will rent a truck at some point in our lives. Rental companies often tout the ease of driving these vehicles, assuring prospective customers that they can handle the task of driving even if the largest vehicle they've piloted in the past is a mini-van or SUV. Still, renters and everyone else on the road are relying on the rental company to provide a safe vehicle. Rental truck accidents happen for a range of reasons. In today's post, our Oakland rental truck accident lawyer explores these accidents, specifically the dangers that negligent upkeep or other vehicle-related problems pose to all travelers.
Rental Truck Accident in San Jose Early Tuesday morning, according to a report in the Oakland Tribune, a rental truck accident halted traffic on Highway 101 South between Brokaw Road and First Street in San Jose for one hour. CHP Officer Ross Lee told reporters that a rental truck swerved off the road onto the right shoulder and plowed into a chain-link fence. With the fence wrapped around the driveline and rear axle, the truck proceeded to head left, driving through a guardrail and crossing all four lanes of traffic with the fence in tow. Luckily, the driver was not injured and, likely thanks to the early hour, no other vehicles were involved. The cause of the incident remained undetermined at the time of the report, although the CHP noted they did not suspect drug or alcohol use.
Report Examines Rental Truck Safety Following Fatal Accident The accident in San Jose could have had a much more tragic ending, a truth brought home by a November 2011 report in the Hartford Courant. The report followed a crash in which a rental truck driven by a Yale student hauling beer kegs to a football tailgate plowed into a group of pedestrians killing one woman and injuring two others. Although the article preceded an investigation, the author suggests the accident would likely add to the controversy over rental truck policies nationwide, policies that put untrained drivers at the helm of 5-ton vehicles despite few maintenance requirements.
– Questions About Vehicle Maintenance and Aging Fleets According to The Courant report, rental trucks do not need to comply with the oversight and inspection rules applied to commercial truck fleets by the U.S. Department of Transportation. The article cites a 2005 study out of Toronto that found half of the trucks one leading rental company had in the region failed safety inspections. Another 2007 report did a spot-check of 163 trucks owned by the same company and found half were more than 60 days overdue for safety checks that the company said were performed monthly to ensure brakes, tires, and other equipment were in safe working order.
Furthering potential risks, the truck rental company appeared to wait much longer than traditional car rental companies to retire vehicles from their fleet. The Courant identified 28 used rental trucks for sale that were, on average, more than 16 years old and had over 175,000 miles on the odometer. In contrast, former fleet passenger cars being sold off by a leading car rental company were typically less than two years old and had traveled under 35,000 miles.
– Concerns About Lax Rental Requirements
Despite the size of these vehicles, drivers do not need a special license to pilot rental vans. At least one major truck rental company allows 18 year-olds to rent trucks and allows 16 year-olds to rent trailers. In contract, most major car rental companies require drivers to be 21 and charge a surcharge for renters under 25.
Representing Injured Victims Following Northern California Rental Truck Accidents
If you have been involved in a rental truck accident in Northern California and you believe someone else was to blame, our team can help. Our Northern California rental truck accident attorney will explore all possible avenues of recovery, including the potential liability of the rental company if a vehicle defect or corporate negligence played any role in causing the crash.
See Related Blog Posts:
Commercial Truck Accidents and Legal Liability: Who's Responsible When Trucks Cause Injuries?
"The Car Was Out of Control" – A Lesson in Excuses from your Oakland Injury Lawyer
(Photo by Connie Ma)