All big cities are filled with a hustle and bustle throughout the day as cars, bikes, trolleys, buses, and pedestrians move about the streets as residents go about their business. The energy created by so much activity is exactly what draws many people to these urban areas. However, our San Francisco pedestrian accident lawyer knows that it the commotion on our streets can also be dangerous for those caught up in traveling accidents. For too often local drivers, bicyclists, and pedestrians suffer serious injuries or even death after crashes on and near our local roadways.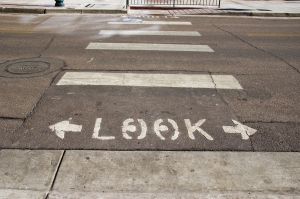 That appears to be what happened earlier this week to Sulpicio Jimenez, a 57-year old resident of San Francisco's Outer Mission neighborhood. According to reports in the San Francisco Chronicle, the man was on foot crossing Mission Street near Excelsior Avenue shortly before seven in the evening when he was struck by a car. Local emergency crews rushed to the scene and the man was taken to a local hospital. However, there was little that could be done, and the man ultimately passed away from his injuries. Authorities are still investing this San Francisco car accident, and no arrests or other citations have been issued yet.
There are still too many unknowns about this latest tragedy to understand what legal issues might be involved. However, far too often drivers fail to recognize that they owe a duty of care to those pedestrians who are traveling nearby. Tens of thousands of pedestrians are injured or killed near roadways every year. More than other traveling incidents, San Francisco pedestrian accidents often involve particularly serious harm to those involved because walkers have no protection. A car does not have to be traveling very fast for it to cause immense damage to a pedestrian in its crosshairs.
The particular vulnerabilities of those who travel by foot are exactly why certain legal protections have been enacted by our legislature in an attempt to make our roadways safer for travelers. For example, it is illegal in our state to operate a car while using a cell phone. In addition, all drivers must yield the right of way to those in crosswalks, even when they are unmarked at an intersection. Drivers who violate these laws and hit those walking nearby are likely liable for the injuries that they cause. Our San Francisco car accident attorneys have worked on many cases where vehicles have negligently hit pedestrians. There are a wide variety of causes of these accidents, but upon close examination they can often be traced back to drivers who fail to abide by reasonable standard of care.
Most victims of these accidents and their families have a vague idea that they have a legal right to file a claim when another mistake led to their harm. However, many residents remain unsure about what they should do to protect those rights. To complicate things even more, insurance companies often get involved right away before some victims are able to determine what course of action is in their best interest. In virtually all cases it is beneficial to have seek the advice of a legal professional as soon as possible. There is no denying that the laws regarding pedestrian accidents can be confusing, and no local resident should go it alone.
See Our Related Blog Posts:
The Most Dangerous Places for Pedestrians in San Francisco
Strong San Francisco Pedestrian Advocacy Needed: One Pedestrian Death is One Too Many