From bachelor and bachelorette parties to trips to the ballpark, party buses have become increasingly popular. In many cases, the buses are converted vans that have been outfitted with sound systems, elaborate lighting, and upgraded seating. Some party buses even include extras like smoke machines, dance floors, and stripper poles. While the buses can be a safer alternative to driving where alcohol is involved, they can be dangerous if not properly constructed and operated. Careless operation, or perhaps companies placing profits over safety, has led to serious party bus accidents in California and nationwide. Our office has the knowledge and experience needed to serve as a law firm for party bus accidents in San Francisco and throughout Northern California. We can help victims seek monetary compensation from those responsible for turning a night of fun into a night of tragedy.
Off-Duty Party Bus Involved in Fatal Crash
According to the San Francisco Chronicle, one of two people aboard a van died on Sunday when the vehicle spun out on Interstate 280 near Portola Valley. It was approximately 10:50 P.M. when the vehicle slid down an embankment in the area south of Alpine Road, killing the sole passenger (later identified as Adam "Maximo" Blomquist). Forty-three year old Jason Quinonez, the van's driver, fled the accident scene. Office Amelia Jack of the California Highway Patrol reported that Quinonez was found walking nearby and later arrested on charges of manslaughter, hit-and-run, and drunk driving.
The vehicle, a Chevrolet Express 3500, had been converted into a party bus and was being registered to Maximo Limo Party Bus. Investigators plan to speak with the van's owner as part of their investigation. Notably, investigators charged a party bus' owner with vehicular manslaughter when a woman fell from the van on Highway 17 in the Santa Cruz Mountain in July 2012. The woman had been fighting with another woman and investigators concluded that someone pulled the van's emergency lever, allowing the door to open.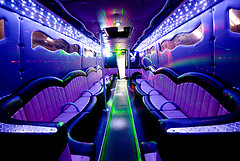 California's New Party Bus Law
California law recently evolved to provide special regulations applicable to party buses. As discussed in an article published in the Santa Cruz Sentinel last autumn, the bill was signed into law in September 2012 and took effect on January 1, 2013. State Senator Jerry Hill of San Mateo introduced the provision to bring the law for party buses, which he compares to "booze cruises," in line with the law for limousines. The law was motivated by a range of accidents including the death of a woman who fell out of a party bus in 2012 and the death of a 19 year old who got behind the wheel after drinking aboard a party bus in 2010.
At the time of booking, party bus companies must ask whether the trip will involve alcohol and whether there will be passengers under age 21. If clients answer yes to both questions, the bus company must ask the customer to appoint a chaperone aged 25 or older to check passenger identifications and inform fellow passengers that the bus will return to the starting point if underage passengers are found drinking. The chaperone, who is subject to misdemeanor charges if the duties are not met, must also ensure all passengers who are drinking alcohol make it home safely after the trip. Bus drivers are also responsible for violations and must check IDs of suspected underage drinkers. Drivers are also responsible for checking for alcohol if drinking is suspects on a ride with minors where the clients said alcohol would not be consumed. If alcohol is found in such a scenario, the driver must either lock alcohol beneath the bus or return to the ride's starting point. Companies may also face fines up to $2,000, a 30-day license suspension, or even license termination in the case of violations.
Additional Liability Issues in Party Bus Accidents
Of course, party buses may also be liable for non-alcohol related accidents, such as a collision caused by driver negligence, maintenance problems, or defective parts. The buses are "common carriers" and, as discussed in prior posts, such companies must operate with the utmost care for safety. This duty is shared by all vehicles that carry customers for a price such as buses, taxis, and limousines. Notably, cases against private companies do not require adherence to the special rules applicable to lawsuits against public companies (i.e. Muni).
Representing Victims of Party Bus Accidents in Northern California
While the bus involved in Sunday's crash was not hosting party customers at the time of the fatal accident, it remains to be seen whether the conversion to a party bus played a role in the crash (ex. they had activated lighting that distracted the driver). Party bus accidents are becoming increasingly common and it is a problem that the legislature and courts take seriously. If you or someone you love has been the victim of such a collision, please call our Northern California party bus accident law firm. We can help you recover monetary compensation and remind the party bus companies that safety should always be a top priority.
See Related Blog Posts:
Limo Fire Tragedy and California Common Carrier Law
San Francisco Lawyer Comments on Taxi Accident Law After Pedestrian Dies in Cab Collision
(Photo by Philip Ray)