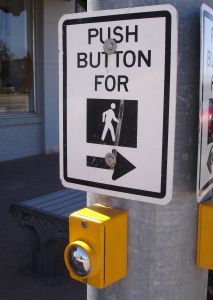 Notwithstanding San Francisco's recent efforts to curb the number of incidents in which pedestrians have sustained injuries in collisions with motor vehicles, the city by the bay remains a perilous place for pedestrians. And San Francisco pedestrian accident attorney Gregory J. Brod found Thursday's latest example of another pedestrian suffering injuries while crossing the street particularly troubling because it happened on a roadway that has already seen two other high-profile injuries that made the news this year.
A 20-year-old woman was crossing the intersection of Sunset Boulevard and Yorba Street in the city's Sunset district when, according to KTVU News, she was struck by a Honda CRV. The woman entered the crosswalk after pushing a button to activate several flashing beacons to alert motorists to stop, which several did, but the driver of the Honda CRV did not stop, noticed the woman too late and skidded into her. The impact between the car and the woman sent the latter spinning to the pavement, and she was transported to the hospital with moderate injuries.
One other pedestrian suffered more serious injuries and another one died at the same intersection, which has six lanes and a center island, earlier this year. In February, a 77-year-old man was struck and killed, and in that same month a teenage boy was hit and sustained head injuries. As in the case of Thursday's incident, the man who was killed and the teenage boy had pushed a button that triggered the flashing beacon alert system prior to crossing the street.
The roadway conditions at Sunset Boulevard and Yorba Street – six lanes and no signal for several blocks that allow traffic to pick up speed – unfortunately, are conducive to pedestrian-motorist collisions, and dozens of people have been hit on Sunset Boulevard over the years. Indeed, the perilous conditions at the intersection are an example of why pedestrian-motorist collisions have been concentrated in a limited number of particularly dangerous intersections in San Francisco.
There are several troubling statistics that point to a definite profile for pedestrian-motorist collisions in San Francisco, including the following that were compiled by KQED:
Every year in San Francisco at least 800 people are injured in collisions with motor vehicles, and 100 are severely injured or killed;
Six percent of the streets in San Francisco account for 60 percent of all severe and fatal pedestrian injuries;
Fifty percent of all pedestrian fatalities involved a motorist who was driving at 40 mph or faster, whereas only 10 percent of fatalities involved a motorist who was driving at 25 mph or slower;
Sixty-four percent of drivers in pedestrian-motor vehicle collisions are found at fault, with 41 percent of that total failing to yield to the pedestrian;
Twenty-eight percent of all pedestrian injuries in a collision with a motor vehicle were preceded by the latter making a left turn; and
Seniors suffer fatal injuries at a rate five times greater than younger adults.
The city had been planning to install a stop light at the intersection of Sunset Boulevard and Yorba Street in 2016. However, in the wake of the fatality in February, those plans have been moved up by one year.

Sadly, there will probably be several other injuries before 2016 in the Sunset district and elsewhere in the city, and anyone who has suffered an injury after being stuck by a motor vehicle while crossing the street needs to seek effective legal representation as soon as possible. If you or a loved one has sustained an injury or worse after being hit by a motor vehicle, please call the experienced attorneys at the Brod Law Firm for a free consultation.
-James Ambroff-Tahan contributed to this article.
See Related Blog Posts:
S.F.'s Van Ness Avenue's Reputation for Peril Worsens as Another Pedestrian is Struck, Killed by Motor Vehicle
S.F.'s Newly Announced Safety Measures Are Encouraging, but Pedestrians Still at Risk on City Streets
As Collisions with Cars Prove Relentless, Pedestrians Suffer Deadly Week