Debates are raging across the country on the topic of gun control. We do not intend to take a political stand on these issues. However, our Sacramento wrongful death lawyer knows that accidental shootings are a very real danger. These accidents can claim lives or cause serious injury and our firm is prepared to help the victims, regardless of which side of the political aisle they occupy.
Four Year-Old Picks Up Loaded Weapon, Accidental Kills Deputy's Wife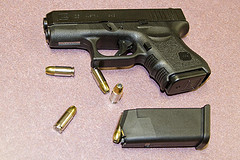 This week, the Sacramento Bee's website carried a tragic story from the Associated Press's Nashville reporters. Wilson County is located in central Tennessee, just east of Nashville. According to investigators, Deputy Daniel Fanning of Wilson County Sheriff's Office was showing a gun to a relative who was visiting his home for a family cookout on Saturday April 6. He had placed the gun on a bed when a four year old boy entered the room. The child picked the gun up and the weapon discharged. The bullet hit and killed 48 year old Josephine Fanning, the deputy's wife. Sheriff Robert Bryan told reporters that the gun involved in the shooting was not the deputy's service weapon and that the deputy normally stored his weapons in a safe.
Statistics on Accidental Shootings in the U.S.
There are a number of organizations across the country dedicated to educating the public on the danger of gun accidents. One such group is Stop Handgun Violence, a non-profit focused on controlling gun violence via public awareness campaigns. While the group does advocate for "sensible regulation," it is not looking to ban guns entirely. Among the numerous facts shared on the organization's website is the fact that a gun in the home is twenty-two percent more likely to be involved in an unintentional shooting than used for self-defense.
One of the most well-known groups working on gun safety, the Brady Campaign to Prevent Gun Violence, dedicates a full page on its website to the issues of unintentional shootings. They report that there were 606 deaths from unintentional shootings nationwide in 2010. In 2011, a total of 14,675 people survived but were injured by an unintentional shooting in the United States. On a general level, the group notes that higher gun ownership rates correlate with a higher number of unintentional shooting deaths. This is particularly true when it comes to children. Mortality rates for children under age four are 17 times higher in states with high gun ownership than in states with low gun ownership and 14 times higher for those aged 5 through 14. The Brady Campaign also notes that careless storage practices raise the chance of an unintentional shooting. Notably, half of households with guns do not lock up the weapons, a figure that includes 40% of gun-owning households with minor children.
Representing the Victims of Accidental Shootings in California
Gun control is a political issue wrought with controversy. Gun violence is, importantly, also public health and public safety issue. This makes gun injuries a topic of concern for our Northern California wrongful death and personal injury law firm. If you were injured or have lost a loved one due to an accidental shooting in San Francisco, Sacramento, or another North California community, please call our office to schedule a free consultation.
See Related Blog Posts:
Sports Injury Lawsuit Filed After Attack at 49ers Game
(Photo by Rob Bixby)