In the course of a day, we can visit several and we rarely think about the time spent in them. They are an in-between place, a necessity that we often rush through on the way to our destination. They are also one of the most dangerous places, posing a particular danger to our community's youngest members. Parking lot accidents are all too common and parking lot fatalities are all too tragic. As an Oakland parking lot accident lawyer, Attorney Brod recognizes the potential dangers or parking lots and the risk of child fatalities in this under-looked danger zone.
Two Year-Old Hit and Killed By Vehicle Pulling Into Parking Lot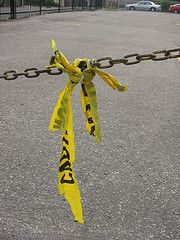 A tragic accident took the life of a toddler in an Oakland parking lot on Wednesday. The Contra Costa Times identified the young victim as Rafael Perez. Two year-old Rafael was playing in the waterfront-area parking lot while his mother sold fruit. According to police, the driver of a pick-up truck was pulling slowly into the lot when he struck and killed the toddler at around 4:15 P.M. The unidentified driver is cooperating with the authorities and neither drugs nor alcohol appear to be involved. The lot is on the 600 block of Embarcadero and situated adjacent to an abandoned furniture warehouse.
Parking Lot Safety Reminders
Child fatalities are terrible tragedies. We are honored when chosen to represent the grieving parents in wrongful death lawsuits, but we always wish we could turn back the clock and prevent the parents from ever needing our services. For this reason, we often use this blog to discuss accident prevention. Similar reasoning led AAA to release some parking lot safety guidelines following the death of a 4 year-old who was hit by a car in a parking lot in west Phoenix on December 8, 2011.
An ABC affiliate shared the following safety guidelines for drivers entering or exiting parking lots:
• Avoid distractions – Drivers should keep mobile devices stowed when pulling in and out of parking lots. Complete calls, send texts, or program/shut-off navigation devices when parked, not while driving.
• Remain in lanes – When available, remain in marked lanes and drive only in the correct direction. Avoid cutting through empty spaces, a behavior that can catch both pedestrians and other drivers unaware. (Note: The article does not mention unmarked lots, such as may have been involved in Thursday's incident. Such lots demand the highest level of caution.)
• Be alert for pedestrians, particularly children – Children are not always alert to moving vehicles. They can also be hard to spot. Unfortunately, the youngest children fall into both of these groups. Drivers should take particular care to watch for children and proceed slowly when navigating parking areas.
• Buckle up – Drivers can also be hurt in parking lot accidents, even at low-speeds. Buckle up before leaving your spot and avoid prematurely unfastening your seatbelt when entering a lot.
AAA also provided safety tips for parking lot pedestrians:
• Stay alert – Watch for moving vehicles whenever walking in a parking area. Look for things like turn signals, back-up lights, and even exhaust, all potential cues that a vehicle is (or will shortly be) moving. Do not use your cell phone when walking in a lot.
• Use crosswalks – Whenever possible, walk in marked crosswalks.
• Watch and educate children – Keep children close, holding their hands when possible. Avoid leaving children unattended. Also, teach children about parking lot safety and remind them that even if they can see a car, the drivers may not always see them.
An Oakland Law Firm for Parking Lot Fatalities
Our hearts go out to the family of Rafael Perez. If your child or another loved one has been the victim of an Oakland parking lot accident, please call our firm. We can help you navigate the legal system and recover monetary damages including compensation for pain and suffering as well as money to cover final expenses. Call to schedule a free consultation with our Oakland wrongful death lawyer.
See Related Blog Posts:
Keeping Kids Safe and Advocating for the Smallest of Car Crash Victims
San Francisco Pedestrian Lawyer Examines California Law on Bicycles & Sidewalks
(Photo by Jon Hayes)