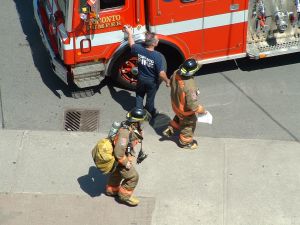 The old adage of "a picture is worth a thousand words" is no more relevant than in the course of a legal investigation and potential litigation. By extension, if a picture's worth can be measured in the thousands, a video's value can be exponentially greater in terms of what it might say about facts or issues in legal proceedings. We are reminded of the power of images in the wake of news that footage from a San Francisco Fire Department firefighter's helmet camera may land him a departmental reprimand. And San Francisco personal injury attorney Greg Brod reminds us of the critical importance of preserving and recording evidence that could prove pivotal to supporting a legal claim one may decide to pursue.
Disciplinary Action Against Firefighter Being Considered
As reported by the San Francisco Chronicle, SFFD Fire Chief Joanne Hayes-White is considering disciplinary action against Battalion Chief Mark Johnson, whose helmet camera filmed the precise moment when a 16-year-old survivor of the July 6, 2013, crash of Asiana Flight 214 at San Francisco International Airport was struck and killed by an airport fire rig. The young woman, who was prostrate on the airport tarmac and covered by fire-retardant foam, died as a result of being run over by the water-carrying fire rig, according to a forensic investigation conducted by the San Mateo County coroner's office.
According to Chief Hayes-White, the film from Johnson's camera was not permitted under a 2009 departmental order that disallowed unauthorized video recordings "in the workplace" and at fire stations. The fire chief, whose disciplinary action comes two weeks after the helmet camera footage became public, stated that the privacy rights of victims and firefighters outweighed the value of videos from helmet cameras.
Evidence Falls into Different Categories
The ill-fated Asiana Airlines flight that crashed while attempting to land at SFO this summer will have provided a plethora of evidence that could prove or disprove facts in the airplane accident, not least of which is the abundant debris from the crash. The remains of the Boeing 777 would be considered physical evidence, or that evidence that can be touched. Such tangible evidence would stand in contrast with evidence that is provided orally – testimony from the survivors of the crash, for example. In addition to the matter of whether evidence is physical or oral, an additional question is raised as to whether it is direct, i.e., without need of an inference, or circumstantial, which requires an inference to establish a fact. Pictures or film are considered to be a form of direct evidence, and they can be either direct or circumstantial. And in the case of a video that shows an alleged act being carried out, a judge and jury could be staring down the barrel of a proverbial smoking gun.
In addition to the important questions of defining and classifying evidence, sometimes a legal proceeding involves the serious matter of whether there was spoliation of evidence. Spoliation of evidence is defined as the withholding, hiding or destruction of evidence to a legal proceeding, which is a criminal act. Spoliation is also considered a separate tort in many states.

The task of determining what evidence a judge may consider admissible is a key responsibility of a competent lawyer. The personal injury lawyers at the Brod Law Firm have many years of experience identifying what evidence is relevant and how to convincingly present it in a legal proceeding, and they urge anyone who has been injured in an airplane, automobile or other form of vehicular accident to contact them for a free legal consultation.
-James Ambroff-Tahan contributed to this article.
See Related Blog Posts:
Multiple Defendants Sued in Asiana Airplane Accident