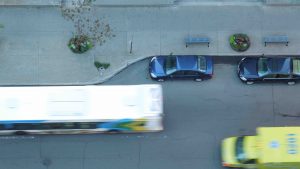 In late September, two Alameda-Contra Costa (AC) Transit buses collided near Howard and Fremont streets in San Francisco just before 9:30 in the morning. AC Transit officials stated that both buses exited I-80, heading north on Fremont. The buses were supposed to turn right onto Folsom. The first made the turn, and the second bus appears to have lost control before doing the same. The second bus collided with multiple vehicles before driving onto a sidewalk and stopping once it collided with the scaffolding of a building. Initial reports from passengers and pedestrians who stopped to help state that the driver appeared to have lost consciousness just before the incident. Four individuals, including at least one of the drivers, were injured and taken to nearby hospitals. It also appears that a fifth person was injured and took themselves to the emergency room.
It is likely these individuals will need to file insurance claims or lawsuits to recover compensation for their injuries. If you have been hurt in a bus or public transportation accident, do not hesitate to seek legal advice regarding your rights and legal options. At Brod Law Firm, we are ready to help you recover the compensation you deserve under the law and need to move forward with life.
Bus Accident Statistics
In 2015, the Federal Motor Carrier Safety Administration (FMCSA) recorded that 4,311 large trucks and buses were involved in fatal crashes, which was an 8% increase from 2014. While increases in large truck and bus crashes in recent years have been concerning, the figure remains under the 21st century's all-time high in 2005, when large trucks and buses were involved in 5,231 fatal crashes.
There were 257 fatal crashes involving buses in 2015, and a total of 261 buses involved in fatal crashes. These led to 49 deaths of bus occupants, while bus crashes caused 295 deaths altogether, which includes other motorists, passengers in other vehicles, motorcyclists, bicyclists, and pedestrians.
Recovering Compensation After a Bus Crash
When a bus driver or other transit employee suffers injuries while on the job, they typically can turn to workers' compensation for help. As long as a business in California employs at least one person, it must have workers' compensation insurance. Through a workers' compensation claim, a driver or other employee may be able to obtain medical care, temporary disability payments, or permanent disability payments.
However, bus passengers, other motorists, and pedestrians do not have access to workers' compensation insurance when they are injured in a bus accident. Instead they must look to another insurance policy for recovery or file a personal injury lawsuit against the at-fault party or their employer. Through either of these methods, you can seek compensation for:
Medical care

Wage loss

Loss of earning capacity

Pain

Suffering

Emotional distress

Disfigurement

Disability
Let Our San Francisco Personal Injury Lawyers Help You
If you were injured in a bus accident, or you lost a loved one in a bus crash, contact us at Brod Law Firm right away. We will thoroughly investigate the crash to determine the liable party. We can then help you move forward with a third-party injury claim or if necessary, a personal injury suit. Contact us online today or call (800) 427-7020 to schedule a free initial consultation.
(image courtesy of Stefane Milot)