Last Tuesday, we published a blog entry about bus accidents.  In a tragic turn, between the time we wrote the post and the time it went live on our website, another terrible bus accident occurred in the Bay Area.  We regularly look at major news stories and this accident raises several important issues, including the serious danger of overtired drivers.  Bus drivers hold many lives in their hands, both the lives of their passengers and the non-passengers who may be impacted in an accident with such a large vehicle.  It is, as we note below, too early to know for sure what caused last week's deadly bus accident, but out San Francisco bus crash lawyer knows that the potential dangers of bus driver fatigue are too great to ignore.
Investigation Continues into San Jose Bus Crash, Officials Rule Out Mechanical Failure
It was early on a rainy Tuesday morning in San Jose when, as ABC7/KGO reported later that day, a Greyhound bus travelling on Highway 101 began to turn onto Highway 85 and suddenly slid into several impact barriers before landing on its side.  Two passengers died after being ejected through the bus's front window.  One other passenger suffered serious injuries and nine others, including the driver, were taken to the hospital for minor injuries.  The bus, which left Los Angeles around 11:30 P.M. Monday, had been due to arrive in Oakland by 8:10 A.M.
On Thursday, ABC7/KGO provided an update on the investigation into the deadly accident.  At that time, NTSB officials announced that their initial investigation determined that the crash was not due to any mechanical defect in the bus.  Investigators continue to look at the crash, including the efficacy of the impact barriers.  At the time of the article, the lead CHP investigator said he had not yet substantiated statements (included prior news report) suggesting the driver told first responders he was feeling fatigued and had stopped for coffee in Gilroy.  Still, when asked about the bus line's safety record, the President of the Greyhound drivers' union focused on fatigue saying: "So, you can teach people how to make a right turn, a left turn, and keep eyes open and watch the mirrors, but the bottom line is if you create a work environment that's hostile to rest, which is what we have in the whole industry, then it doesn't matter."
The Threat of Drowsy Driving Nationwide
While we cannot yet be certain if fatigue caused the Greyhound tragedy, there is no question that fatigue is a major threat on our nation's roads.  According to the Centers for Disease Control's online feature Drowsy Driving: Asleep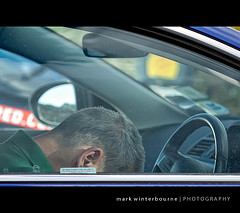 at the Wheel, drowsiness slows reaction time, impairs the driver's ability to focus on the road, and generally reduces the driver's ability to make smart driving decisions.  Citing the National Highway Traffic Safety Administration, the site estimates that 72,000 accidents, 44,000 injuries, and 800 deaths in 2014 were the result of driver fatigue.  The National Sleep Foundation ("NSF") cites an Australian study suggesting that being awake for 18 hours caused the equivalent of a .05 BAC and being awake 24 hours was akin to BAC of .10 (.08 is the legal limit).  Additionally, the NSF's own poll found 60% of adult drivers report driving while drowsy in the past year and 37% say they have fallen asleep at the wheel (13% of those say it happens at least once a month.
Fatigue, Bus Drivers, and the Law
It is easy to see how driver fatigue might be even more dangerous when it hits a bus driver.  In 2014, LCT Magazine, an industry publication, said "Fatigued driving is the primary 'uncontrolled risk' in the bus and motorcoach industry and is the primary cause of most severe accidents."  The report suggests fatigue is at the root of 15% of motorcoach crashes but accounts for 80% of total claim costs, suggesting the higher magnitude of drowsy driving bus crashes.  From a legal standpoint, this is particularly concerning since California places a higher duty on so-called "common carriers," including buses to "use the utmost care and diligence [to ensure passengers'] safe carriage, must provide everything necessary for that purpose, and must exercise to that end a reasonable degree of skill" (California Civil Code 2100).
If you have been injured or lost a loved one in any motor vehicle accident in Northern California and believe someone else's drowsy driving was to blame, call our San Francisco drowsy driving accident lawyer.  In the case of a drowsy bus driver, you may have multiple legal claims including claims against the bus company itself.
We also ask all our readers to stay safe and stay alive by staying awake and alert at the wheel.
See Related Blog Posts:
San Francisco Injury Lawyer on Tour Bus Accidents in California
The Dangerous Intersection of Drowsy Driving and Big Rig Accidents
(Image by Mark Winterbourne)