City dwellers often have a love/hate relationship with tour buses.  Tour vehicles block traffic when they stop to load/unload passengers or halt for a "quick" photo op and large, double-decker buses can impede sightlines.  On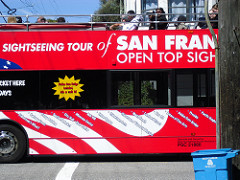 the other hand, the tourism industry is a major source of revenue for our state and our region (per a Dean Runyan Associates study, total direct travel spending statewide in 2014 was $117.5 billion, including $29,987 million in the Bay Area and $1,760 million in Sonoma County) and a major source of jobs (per the same survey, tourism accounted for 1,0270,000 jobs statewide in 2014).  Sadly, however, tour buses have been in the news recently for a reason that trumps all other pros and cons – safety.  Tour bus accidents are a growing concern and our San Francisco tour bus accident lawyer represents both locals and visitors who are injured or lose loved ones in these tragic collisions.
Tour Bus Fatally Strikes San Francisco Pedestrian
At approximately 1 P.M. on Saturday, a tour bus hit and killed a pedestrian at the intersection of Post and Divisadero Streets.  According to The San Francisco Chronicle, police are still investigating, but early indicators suggest the pedestrian was crossing against a red light when the bus turned right and hit the man.  One witness, a former police officer, said the man was waving and shouting at the driver just prior to impact, but the driver appeared to be distracted by another motorist running a red light.   In the witness's words, "I have no idea why (the driver) didn't see him — unless he was looking somewhere else — but he must have passed right in front of him.  He wasn't driving fast, but he just kept going."
As the Chronicle notes, there have been other local tour vehicle accidents in recent memory.  Just over two months ago, a runaway double-decker tour bus crashed in Union Square injuring 20 people, some critically.  That vehicle appears to have had mechanical problems and had not undergone required state inspections.  Another fatal pedestrian crash occurred in 2014 when a charter cable car hit a 68-year-old pedestrian near City Hall.  Although not mentioned in the recent article, the Chronicle previously reported on another Bay Area tour bus crash on December 26 that left eight people injured.
Responding to the most recent accident, State Senator Jerry Hill vowed to introduce legislations this month to improve tour bus safety: "We need to look at this and see where the regulations are not adequately providing safety.  We want to know what we can do to better enforce and oversee an industry that is growing and may be unsafe."
Quick Statistics on Bus Crashes
The Federal Motor Carrier Safety Administration's 2015 Pocket Guide to Large Truck and Bus Statistics reports that there were approximately 66,000 crashes involving buses of all types (defined as vehicles designed to carry nine or more people, including the driver) in 2013.  This figure includes 280 fatal bus crashes that claimed 310 lives, including 71 pedestrians, and 18,000 injury-causing bus crashes.  Notably, there was a large jump in the estimated total number of bus crashes in 2013 with 54,000 reported in 2012, 56,000 in 2011, and 54,000 in 2010.
What Causes Tour Bus Crashes?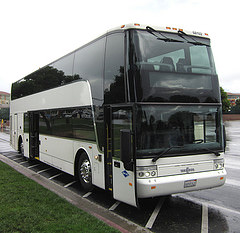 As with all traffic crashes, each tour bus crash is unique and many involve multiple causes that combined to create the tragedy.  While most tour bus drivers and tour bus companies are committed to safety, some engage in risky behaviors.  Safety threats include:
Driver Fatigue;
Driver Distraction (Note: While a San Francisco ordinance prohibits driving and narrating at the same time, it has limits in its application and is not a statewide law. We believe that, in addition to the distractions that apply to all drivers, the process of conducting tours and also controlling passengers continues to be a source of distraction for bus drivers in the Bay Area and beyond.);
Violation of traffic rules;
Alcohol and/or Drug-Related Impairment; and
Use of poorly maintained vehicles.
Comparative Negligence Rules Protect Imperfect Plaintiffs
Of course, drivers and bus companies are not the only parties responsible for tour bus accidents.  In some cases, the injured party (or grieving family member in a wrongful death action) shares some degree of fault.  California law recognizes that accidents are complex.  The principle of comparative negligence allows plaintiffs to recover from an at-fault defendant even where the plaintiff was shared in the fault.  In those cases, the amount of recovery will be reduced to account for the plaintiff's (or, in wrongful death actions, the deceased's) fault.  For example, if a jaywalking plaintiff is hit by a speeding motorcycle, the court might decide that the accident was 25% the plaintiff's fault and 75% the rider's fault.   In that case, the court would typically award 75% of the total damages that would otherwise be recoverable.
A Tour Bus Injury Law Firm
Given the size of the vehicles and the number of passengers on board, tour bus accidents are particularly dangerous.  In addition to the issues discussed above, California's laws on common carriers and also certain employment-related laws are often relevant in tour bus accident litigation.  If you were injured or lost a loved one in a Northern California tour bus accident, you need an experienced attorney who can help you get the compensation you deserve.  Call our tour bus injury lawyer in San Francisco, Santa Rosa, or Oakland to discuss how the Brod Law Firm can help you.
See Related Blog Posts:
San Francisco Bus Accident Lawyer Looks at Bus Accident Statistics After Union Square Crash
Tour Bus Safety in San Francisco
Tour Bus Accidents & Liability Under California Law
(Photo of white bus by Greg Goebel, Photo of red bus Flicker user A National Acrobat; neither picture reflects bus involved in news report)