All car accidents are frightening, but rollover accidents are particularly terrifying to contemplate. Our San Francisco accident law firm hears victims describe the fear inherent in any car crash. Rollovers epitomize the lack of control inherent in any accident and can leave victims seriously injured or lead to a loss of life.
Officers Injured When CHP Vehicle Flips During High-Speed Chase
The San Francisco Chronicle reported this week on a frightening high-speed chase that took place on Monday in Livermore. At around 3:25 A.M., a California Highway Patrol ("CHP") vehicle attempted to pull over a car travelling in excess of 100 mph on Highway 580 eastbound, near Altamont Pass Road. When the driver refused to pull over, two patrol cars gave chase. One CHP car followed the suspect vehicle through a line of traffic cones diverting traffic into the left lanes. The second patrol car swerved to avoid colliding with a large truck, hit roadway debris, and flipped over. The two officers inside the flipped vehicle suffered cuts and bruises and were treated and released from Valley Care Medical Center. The first patrol car did continue the chase and ultimately the suspect pulled over and the officers arrested twenty-two year old Donte Neel on suspicion of speeding and evading police.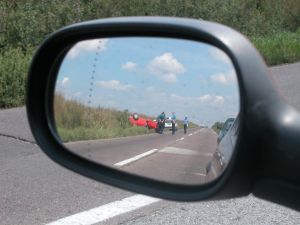 Rollover Crashes: Studies & Statistics
In 2007, the National Highway Traffic Safety Administration ("NHTSA") conducted a study of rollover crashes. The study found that one-third of passenger vehicle occupant fatalities in 2004 occurred in vehicles that rolled over. 2.7% of those involved in rollovers suffered a fatal injury compared to a fatality rate of 0.2% for passengers in non-rollover crashes. This amounted to 31,693 total vehicle occupant fatalities in car accidents for 2004, with 10,553 fatally injured in rollovers including 8,565 fatalities in single-vehicle rollover accidents.
At the time of the NHTSA study in 2007, SUVs were more likely to rollover than other types of vehicles. Notably, this has changed in recent years. According to a CNN report from July 2011, a driver in a 2009 model passenger car was nearly twice as likely to perish in a rollover accident compared to the driver of a 2009 model year SUV. The Insurance Institute for Highway Safety attributed the shift to improved SUV designs and the use of electronic stability control in newer SUVs.
In addition to type of vehicle, the 2007 NHTSA study identified a number of factors that appeared to contribute to the likelihood of a rollover crash. Rollovers occurred more frequently in older vehicles driven by young, unbelted drivers. The use of alcohol increased the risk of a rollover incident. Additionally, rollovers tended to occur more often in speed-related crashes and on higher speed limit roads. Rollovers were less common in intersection collisions. Drivers were more likely to have been passing than turning in the moments just prior to a rollover. Often, the driver noticed an imminent collision and attempted to correct course when they lost control. Either the rollover itself or a collision with an embankment of some form tended to be the first harmful event in the crash (as opposed to coming later in a chain of events).
A Reminder from Our San Francisco Injury Law Firm
Safety groups compile statistics in order to help understand accidents and prevent future tragedies. Studies can sometimes feel a bit removed, but every statistic stems from a very real story and very real lives. Thankfully, the officers in the Livermore crash suffered only minor injuries and returned home to their families. Not all accident victims are so lucky and many lives are irrevocably altered due to vehicle accidents.
Rollover crashes can have a myriad of causes, with many innocent victims injured in an attempt to avoid colliding with a negligently driven vehicle. If you or a loved one is injured in a rollover crash caused by another driver, a dangerous road condition, or a faulty vehicle or part, please call for a free consultation with our experienced San Francisco injury lawyer. Attorney Brod and the rest of the injury team is here to help.
See Related Blog Posts:
Oakland Injury Lawyer on Dangerous Roads and Hazardous Intersections
San Francisco Product Liability Attorney Comments on Danger of Tread Separation as Michelin Recalls Over 840,000 Tires
(Photo by "infinity" via stock.xchng)