The sparkle of elaborate display windows makes the San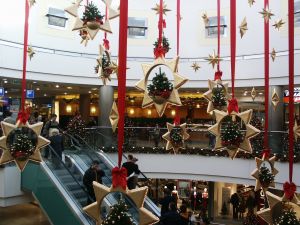 Francisco Bay Area a popular destination for holiday shoppers. Downtown San Francisco, Walnut Creek, and malls everywhere see an influx of cars and pedestrian traffic eager to share in the deals and the holiday spirit. Urban cities like San Francisco see an increase in bicycle traffic every year as well. The crowds and the jostle of bags are part of the holiday fun, but they can also lead to claustrophobia and frustration as people unexpectedly duck in and out of the bustle and rush across streets and parking lots to get to their next destination.
San Francisco District Attorney George Gascon is calling for heightened awareness from residents and visitors to prevent tragic accidents. He has teamed up with the San Francisco Bicycle Coalition and Walk SF to promote safe conduct in order to prevent accidents during the busy holiday season.
This call for safety follows four pedestrian deaths that have come under investigation in the San Francisco District Attorney's office over the last six months. DA George Gascon stressed that each one of the fatal accidents was preventable, if only the persons involved had exercised more care. Elizabeth Stampe, the Executive Director of Walk San Francisco, expresses concern that similar accidents will be on the rise in November and December as it starts to get darker earlier.
The Brod Law Firm echoes the District Attorney's appeal and reminds pedestrians, cyclists, and drivers to keep an eye out for unsafe behavior while out and about. Be vigilant of your surroundings and avoid dangerous situations such as:
Distracted drivers- For example, ones that use cell phones or look up directions while behind the wheel

Impatient drivers/cyclists that run stop signs or red lights and pedestrians who cross out of turn or outside of designated crosswalks

Drivers, cyclists, and pedestrians who might try to get ahead of the rest of the crowd by making sudden, unsafe maneuvers
Awareness lessens the stress of the season, allowing shoppers to fully enjoy the sights and sounds of the seasonal decorations, displays, and excitement.
If you or your loved ones have been a victim of carelessness, you may recover medical expenses, missed wages, or other losses. Call the Brod Law Firm for a free consultation from our experienced personal injury lawyer.
The Brod Law Firm wishes you a joyous and safe holiday season.