Taxis can be a terrific convenience, especially for those not well-served by other mass transit options. They can also be an important safety resource when people opt to call a cab rather than getting behind the wheel after drinking. Cabs also have a notorious reputation for weaving in and out of traffic or speeding in order to maximize profits, putting passengers and bystanders at risk. Our San Francisco taxi accident law firm knows that many drivers do value safety, but also has the experience necessary to understand some of the unique complexities that arise when a collision involves a taxicab.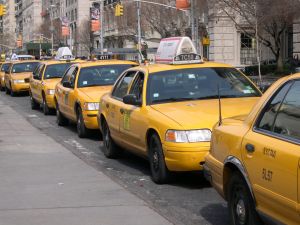 According to The San Francisco Chronicle, an accident involving a taxi recently claimed a life in the city's Tenderloin district. A spokesman for the police department said that thirty-eight year old Edmund Capalla was crossing at the intersection of Eddy and Larkin Streets around 7 P.M. on Saturday evening. Reports indicate that a taxi ran a red light and collided with another car that was entering the intersection, causing the cab to spin and then hit the pedestrian. Emergency personnel transported Capalla to San Francisco General Hospital where he later died as a result of injuries incurred in the crash. Police are continuing to investigate the incident and will then share the results with the District Attorney's office. The prosecutors will then decide whether to file criminal charges against the taxi driver.
Cab accidents can involve the same problems of driver carelessness or inattention that factor into any automobile collision. However, they also pose some unique legal issues. When taxi drivers own and operate their own cabs, a driver is typically solely responsible for damages. However, many drivers either rent their cars from a taxi company or operate as a company employee. In such cases, the company or its insurance carrier may be held liable for the driver's actions. In addition to general employment law issues, evidence of company policies that encourage lax safety standards can be an added factor. A poorly maintained fleet is another potential aggravating factor in taxi accident liability.
In cases involving injury to a passenger, taxi accident law also involves special standards applied to "common carriers" by the law. This principle creates an added duty of care when people pay for transportation such as in a cab, on a plane, or aboard other forms of mass transit. Common carriers are required to use the utmost care and diligence to ensure the safety of their passengers. In many cases, this duty can begin even before a passenger gets into a cab, as long as both the passenger and company show an intent to do business, and can last until the passenger safely out of the vehicle.
As with other accident cases, victims of taxi crashes can receive damages to compensate for economic losses stemming from the injury such as past and future medical costs and lost wages. Compensation may also be awarded for the victim's pain and suffering or for the loss of companionship suffered by a spouse or family member. Where the evidence shows the defendant (whether the taxi company or the driver) acted with malice, fraud, or other extreme fault, punitive damages can be added as a way to punish the wrongdoer.
We understand car accidents and we also understand some of the unique contours that can apply to taxi accidents in San Francisco or elsewhere in Northern California. If you have been hurt or lost a loved one in a crash caused by a cab driver, please call so we can help you recover the damages you are owed
See Related Blog Posts:
The Daunting Task of Making San Francisco Muni Safer and Fiscally Fit
Oakland-San Francisco Attorney Comments on Muni Safety