In previous posts, we ha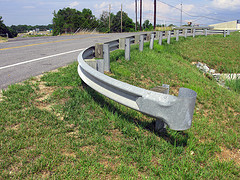 ve discussed significant problems with certain guardrails used on U.S. highways.  Now, a government reporting agency is adding its voice to the outcry about dangerous guardrails.  As a San Francisco defective roads law firm, we are concerned about this continued problem and a "safety device" that appears to be anything but safe.
GAO Report Criticizes Government Response to Concern Over Guardrails
This week, ABC7 reported that, three years after the news channel first discussed problems with certain guardrails, the General Accounting Office ("GAO") has come out with a report criticizing regulators for failing to protect Americans from a guardrail system that has been tied to numerous injuries and even death.  The GAO is an independent government agency that performs audits and investigations for the U.S. Congress.  Its report suggests that the Federal Highway Safety Administration has failed to sufficiently address the problem of defective guardrails and urges the Department of Transportation to improve its oversight of guardrails.  The report also criticizes states for being slow to install improved device.  Further, the GAO's brief questions the crash-testing process used in the development of some guardrails and calls for improved testing using third-party verification.