As residents of Northern and Central California, the team at the Brod Law Firm understands the importance of the wide variety of transportation options available in our region.  Having access to rail systems in particular,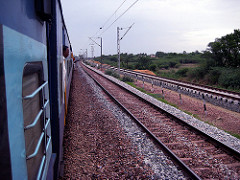 including both commuter rails and metro rails, allows people to travel for both work and play without the stress, environmental impact, and cost of commuting by car.  However, as we were reminded this week, train derailments are a very real danger.  Our San Francisco train accident lawyer helps hold transit authorities and others accountable when people are injured or killed in rail accidents, allowing the victims to recover compensation and encouraging a safety-oriented mindset that can prevent accidents from occurring in the first place.
Train Derailment in Sunol Injures Nine, Responders Call it a Miracle No Lives Lost
According to CBS SF, railway officials are blaming a mudslide for the derailment of a commuter rail train in Niles Canyon near Sunol.  At approximately 7:30 PM Monday, the Altamont Commuter Express ("ACE") train travelling from San Jose to Stockton went off the tracks with the first car sliding down an embankment and ending up in Alameda Creek.  Officials say that the train hit debris from a mudslide that was likely the result of the heavy rains in the area last weekend.