Statistics compiled by the National Highway Safety Traffic Safety Administration tell us that 677 bicycle riders were killed in the U.S. during 2011, 114 of them in California. These tragedies have led to many to consider how we can keep cyclists safer on the road. Some efforts come from municipal leaders, such as the move by the Davis city council that we wrote about earlier this week to enforce laws aimed at keeping cyclists and other travelers safe. Other efforts come from individuals, such as the work of a young woman in England to use technology to help prevent bicycle accidents. While television advertisements often focus on automotive safety technology, less attention has been paid to using technology to improve bicycle safety and our San Francisco bicycle accident law firm applauds this effort to do so.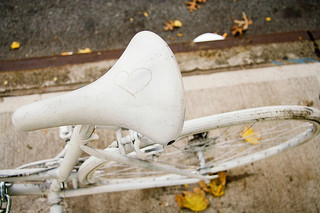 Vehicles Turning, Colliding with Bicycle Riders
According to CNN, Emily Brooke knew the problem she hoped to tackle as a physics student at the U.K.'s Brighton University. Brooke knew that the number of bicycle riders was on the rise in Europe, much like it is in the United States, with an increasing number of people using bicycles for their regular commuting needs. In an interview, she cites the fact that more than 3,000 cyclists had been killed or seriously injured in Britain last year with more than one hundred rider fatalities in London alone. More specifically, Brooke learned that 79% of accidents involving a rider hit by a driver occurred when the bicycle was travelling straight and the driver made a turn and collided with the bicyclist, with the driver usually reporting that he had not seen the rider.
A New Piece of Safety Equipment that Expands a Cyclist's Footprint
Brooke took on this problem of drivers turning into riders or their immediate path and ultimately created Blaze. The product is a detachable light that mount onto the front of a bike. Blaze uses bright LED-style lights to project the outline of a green bicycle onto the road surface, approximately 5 meters (just under 16½ feet) in front of the rider. The image alerts motor vehicle drivers and others to the approaching rider, expanding the cyclist's "footprint" to prevent drivers from unknowingly and tragically colliding with the rider. Praise for the device applauds the additional warning of a cyclist's approach and suggests Blaze has the potential to make a marked difference in bicycle safety.
While there aren't nearly as many inventors focused on bike safety as are focused on automobile safety technology, Blaze is not alone. Other projects include a sound emitting device that keeps dogs at a distance, "smart handlebars" with tracking in case of theft and lights that adjust to the surroundings, and a bike with a glow-in-the-dark frame that increases nighttime visibility.
Technology, Responsibility, Accountability
We applaud these efforts to use technology to tackle bicycle safety concerns. However, we agree with the President of the League of American Bicyclists, Andy Clarke, who says "But perhaps more fundamental than any road design or technological fix attached to cars or bikes is an improvement in operator behavior." Ultimately, there is no substitute for responsible travelling and both cyclists and drivers must be committed to safety. We believe in technology, but we believe in accountability too.
If you were hurt or lost a loved one in a Northern California bicycle accident that was caused by someone else, you may be entitled to money compensation. Please call to arrange a free consultation with Attorney Brod, a member of both the San Francisco and Marin County Bicycle Coalitions, and a dedicated San Francisco injury lawyer.
See Related Blog Posts:
Advent of School Season Reminder of Perils Younger Bicyclists Face
San Francisco Bicycle Lawyer on the Importance of Bicycle Helmets
(Photo by Roy Sinai)