On January 1, 2009, California's wireless communication law (V.C. Section 23123.5) made it a code infraction to write, send, or read a text message while driving unless it is done on a voice-operated and hands-free mode. As a San Francisco car accident law firm, we are all too familiar with the terrible costs of texting while driving, a form of distracted driving that kills far too many and leaves others with catastrophic injuries. There is an on-going debate about how our state and our nation can best fight this continued threat. As a recent CNN article illustrates, a New Jersey appeals court recently suggested one new route for battling the texting and driving menace. The new liability target? People who are texting someone, knowing that the other person is driving at the time.
The Facts and Procedural History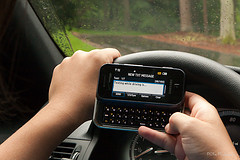 During September 2009, 18 year old Kyle Best was driving along a rural highway in his pickup truck. Court documents reveal that he was also texting with Shannon Colonna, 17, at the same time. The teens were dating and the pair had exchanged 62 text messages throughout the day. Records show that a mere 17 seconds of sending Colonna a text, Best was using his phone to call 911 and report a gruesome scene. Best, presumably distracted by the texts, had drifted into the oncoming lane of traffic and crashed head-on into a motorcycle. David Kubert and his wife Linda were aboard the blue touring motorcycle when the truck hit. The collision nearly severed David's left leg and left Linda with a shattered left leg, her thighbone sticking out from underneath her skin. Both legs were lost. During the aftermath, Colonna sent Best two additional messages.
Both Kubert sued Best and settled those claims. They also sued Colonna, but lost in a decision by the trial judge. The Kuberts appealed, arguing to the appellate court that Colonna distracted Best and shared the responsibility for the crash and resulting injuries. In appellate briefs and arguments, the Best's lawyer suggested that Colonna was electronically present in the car and should be treated just like a passenger who was willfully distracting a driver.
NJ Appeals Court Finds Sender of Texts Can Be Held Liable for Distracted Driving Crash
In late August 2013, a three judge panel of the New Jersey appeals court agreed with the theory behind the Bests' argument. The court found that the sender of a text message may be held legally responsible for distracting a driver and for a resulting crash if the sender knew that the recipient was driving at the time. According to the court, "the sender of a text message can potentially be liable if an accident is caused by texting, but only if the sender knew or had special reason to know that the recipient would view the text while driving and thus be distracted." Still, the court did not hold Colonna liable, saying that the plaintiffs had not provided sufficient proof that she was aware Best was driving during their exchange. In deposition testimony, Colonna said she is like most of her teen peers, sending upwards of 100 texts per day without paying attention to whether a given recipient is driving at the time.
San Francisco Injury Lawyer Considers Trends in Distracted Driving Liability
Will the New Jersey case start a trend? Thus far the decision to hold a sender of texts liable for an accident caused by the recipient has been unpopular. New Jersey's governor has spoken against the ruling, saying that liability lies firmly with the driver, not the driver's texting buddy. However, along with other texting accidents, the Kuberts' injuries prompted New Jersey to toughen its texting while driving law, making texting while driving a primary offense and adding harsher penalties.
While sender liability may not catch on, we believe there is a general trend toward stricter penalties for distracted driving and related offenses. This trend is likely to impact both criminal penalties and civil liability. If you were injured by a distracted driver in Northern California or lost a loved one in a similar manner, we can help you get the monetary compensation you deserve. Call today and arrange a free consultation with our experienced San Francisco texting accident attorney.
See Related Blog Posts:
San Francisco Accident Attorney Urges All Drivers to Be Aware of Crack Down on Distracted Driving in San Francisco
Teens Report Texting Behind the Wheel Despite Safety Risks
(Photo by Paul Oka)