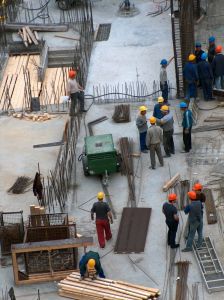 There are multiple reasons for workers in California to be somewhat pleased this Labor Day. For one thing, the number of Californians in nonfarm and salaried employment continues to grow while the state's unemployment figure remains well below its double-digit recession high, according to statistics compiled by the U.S. Bureau of Labor Statistics. The BLS numbers also show sustained growth in employment in key sectors of the Golden State's economy, including construction, trade, transportation, utilities, finance, professional and business services, education, health care, and leisure and hospitality.
Workplace Deaths Down in California
While the employment landscape has improved in California, one might think that the opportunities for workplace injury or death would increase. However, according to a report in the Orange County Register, the opposite trend has occurred in the state, at least with respect to workplace fatalities. In 2012 there were 339 workers who died on the job in California, down 13 percent from the 2011 total of 390, and well below the recent high of 537 workplace deaths set in 2006. The improving numbers have been recorded in California despite the fact that one in three workers in the state continue to be employed in construction, manufacturing, and trade and transportation, three often dangerous industries.
California's relatively strict workplace safety regulations may very well have played a role in reining in the number of deaths of workers on the job and allowing the state to record a lower than national average per-worker death rate. The Golden State's figures stand in stark contrast to states with a relatively laissez-faire attitude toward businesses. Indeed in 2012, Texas – a state with few business regulations – once again held the dubious distinction of reporting the nation's highest number of workplace deaths at 531, a figure that was 23 percent higher than the year before and one that gave the Lone Star State a per-worker death rate more than double that of California.
Workers Face Array of Potential Sources of Harm
In California, as in most states, workers who are injured or killed due to incidents that transpire during the course and scope of their employment are covered for their injuries by workers' compensation. As a form of strict liability, workers' compensation essentially is a no-fault system established by the state in which contributory negligence is not a factor – a legitimate workers' compensation claim must be covered. And the gamut of injuries suffered on the job is a wide one, including all manner of construction accidents, accidents involving motorized equipment, slip-and-fall injuries, chemical burns, lung damage from inhalation of chemical vapors, hearing loss from loud noises or vibrations, carpal tunnel syndrome, etc.
While workers' compensation laws have largely precluded lawsuits between injured employees and their employers, a worker who has been hurt on the job may still be able to file a lawsuit against a third party who may have caused or contributed to the worker's injury. These third-party actions usually involve firms whose services have created unsafe working conditions or those that manufactured a defective product that was instrumental in the worker's injury.

When someone has been injured or killed in the course of employment, the task of dealing with such a serious incident, not least of which is the matter of dealing with medical bills, is a difficult one, and the stress the injured party's entire family can suffer due to the incident can be significant. In such trying circumstances professional legal help is necessary to properly identify relevant legal issues and rights. That's why the experienced personal injury lawyers at the Brod Law Firm urge anyone who has suffered a workplace injury or wrongful death or knows a loved one who has to contact them for a free consultation.
-James Ambroff-Tahan contributed to this article.
See Related Blog Posts:
The Importance of Healthy Workplaces: The Asbestos Example
California Insurance & Workers Compensation Reform
Mechanic Death Highlights Issue of Oakland Workplace Fatalities