Roller coaster fanatics travel far and wide to check out a new attraction, experience a unique thrill, or take a ride on a historic attraction.   For fans, part of the thrill is feeling scared and out-of-control while knowing they are ultimately safe.  Sadly, that sense of safety is sometimes false; roller coaster injuries and other amusement park accidents  are a reality.  When a memorable day of fun turns tragic, our Northern California amusement park injury lawyer can help.
Two Injured at Santa Clara Amusement Park
According to the San Francisco Chronicle, two people were injured in an accident at California's Great America on Friday June 12.  The incident involved the Flight Deck roller coaster (previously called Top Gun), an inverted coaster that allows riders' legs to dangle free.  Based on official statements and witness accounts, it appears that an employee of the Santa Clara amusement park was struck in the head by a rider as the coaster was returning to the base station.   A rider also suffered a hand injury during the incident.
This is not the first accident involving this particular coaster.  In 1998, a man died after he scaled a security fence to retrieve a lost hat and was hit by the legs of a rider on the coaster.  The death is one of five attraction-related fatalities since the park opened in 1976, including a 2007 drowning and a fall in 1999.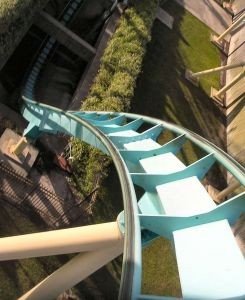 The Lack of Statistics on Fixed-Site Amusement Injuries and the Danger of Not Knowing
Injuries and deaths stemming from accidents at "fixed site" (versus mobile attractions like a bounce house or travelling carnival ride) are admittedly quite rare.  Still, we find it disturbing that there is currently no independent or government-led attempt to track injuries and deaths at U.S. amusement parks.  The headline of a 2013 article in the Los Angeles Times makes the point quite clearly: "How Many Die on Roller Coasters? No One Knows."  Based on the National Electronic Injury Surveillance System, the article estimates 4,400 children are injured on amusement park rides annually, but the system does not track deaths and there has been no corresponding study on adult injuries.  Although the Consumer Product Safety Commission ("CPSC") used to track amusement park deaths, the agency no longer tracks accidents at fixed site amusement fatalities.
The lack of data is perplexing and a risk factor in and of itself.  Accident data helps researchers identify trends, information that can then be used to proactively prevent future tragedies.  Tracking data is one way that past tragedies can prevent future tragedies and, as injury professionals, we believe failing to track statistics puts lives at risk.
Northern California Injury Lawyer Understands Amusement Park Injury Law
The law on amusement park injuries is complex. In some ways, the patchwork nature of the rules and regulations resembles the patchwork of data on amusement park accidents.  State and federal laws can be relevant and standards vary based on specifics such as whether a ride is fixed-site or mobile.  In California, roller coasters are uniquely positioned because they are deemed "common carriers," distinguishing them from other amusement rides and placing them in a category that includes trains and buses.  Further, there are a range of potential defendants in any amusement park injury case from ride operators to design engineers and the facts may point to any number of legally actionable causes such as operator negligence, mechanical failure, design defects, or inadequate training/maintenance.
If you were injured on an amusement ride in Northern California or if an accident involving a ride claimed the life of a loved one, you need and deserve a lawyer who understands the complex nature of these cases.  As a San Francisco amusement park injury lawyer, Attorney Greg Brod has the knowledge and experience necessary to help victims of amusement park accidents recover compensation.  Claims related to roller coaster accidents and other amusement park injuries also provide an incentive for parks to make changes that may prevent future injuries or even save lives.  Call to arrange a free consultation.
See Related Blog Posts:
Nalwa v. Cedar Fair – The California Supreme Court on Amusement Park Injuries
Safety and Legal Concerns in Northern California Amusement Parks