For many apartment dwellers, a balcony is their version of a backyard providing a chance to enjoy a sunny day or cool evening and functioning as an extension of their home.  Both occupants and visitors should be able to enjoy a balcony with confidence in its stability.  Sadly, as we were reminded this week, balcony and deck collapses are a very real danger.   San Francisco balcony collapse lawyer Greg Brod is prepared to use California law to help injured victims and grieving families following devastating balcony collapse tragedies.
Berkeley Balcony Collapse Kills Six, Injures Seven
In the early hours of Tuesday June 16, a balcony collapsed in downtown Berkeley claiming at least six lives and leaving seven others injured.  According to the San Francisco Chronicle, the collapse occurred at Liberty Gardens, a four-story apartment building on Kittredge Street near Shattuck Avenue.  The victims were attending a birthday celebration when the balcony of a top-floor apartment detached from the building and sent partygoers tumbling.  Most of those attending the party were Irish students participating in work-study programs.
Liberty Gardens was built in 2006 and is managed by Greystar with rents ranging from $2,150 to $4,000 per months.  The reason for the collapse was not initially evident.  Initial reports suggest up to 14 people were on the balcony when it fell.  Pieces of wood and insulation remained attached to the fourth-floor site while the balcony structure landed upside-down on the balcony one floor below.  During the initial investigation, police officials flagged at least one other balcony at the complex as potentially unsound.
Causes of Balcony and Deck Collapse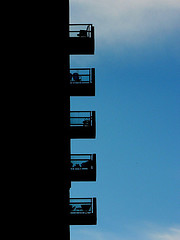 Balcony collapses can stem from a number of different causes.  In general terms, collapses can be traced to construction defects, improper/inadequate maintenance, and/or excess weight.  Maintenance problems that can lead to a collapse include rotting wood, rusted supports, and loose elements.  Construction defects can range from unsafe design to substandard materials.  Many sources, including Robson Forensic, cite ledger board failure as the most common cause of deck collapses.  The ledger board connects the balcony to the building and failure can caused the deck to pull away from the structure.
Balcony Collapse Injuries and California Law
When a person is injured or killed by a deck collapse on someone else's property, premises liability law may help the victims recover monetary damages.  As defined in California Civil Jury Instruction 1000, the essential factual elements of a premises liability claim are: 1) The defendant owned/controlled the property; 2) The defendant negligently used or maintained the property; 3) The plaintiff suffered harm; and 4) The defendant's negligence was a substantial factor leading to the harm.
In many states, premises liability duties are based almost exclusively on the status of the injured person (i.e. invited guest, licensee, or trespasser).  While the plaintiff's status may be a factor, California does not use rigid categories to determine the viability of a claim.  Instead, cases turn on the use of reasonable care.  Elaborating on the standard, Instruction 1001 explains: "A person who [owns/leases/occupies/ controls] property must use reasonable care to discover any unsafe conditions and to repair, replace, or give adequate warning of anything that could be reasonably expected to harm others."  Factors that may be relevant to the question of reasonable care include the likelihood of injury, the probable degree of injury, and whether the defendant knew or should have known of the danger.
While premises liability is probably the most common basis for a deck collapse injury suit, it is not the only legal doctrine that can help.  Construction defect claims apply a professional standard of care and often turn on whether an injury was foreseeable.  When a faulty item such as a defective beam caused the collapse, product liability law can apply and provides the benefit of a strict liability standard.  Landlord/tenant issues can also arise in balcony collapse cases.
As a Northern California deck collapse law firm, The Brod Law Firm is prepared to use a wide-range of civil law principles to protect the injured and grieving.  Call for more information and to arrange a free consultation with Attorney Brod.
See Related Blog Posts:
"The Sky Is Falling!": Bay Area Injury Lawyer Examines Legal Rights Following Injuries from Falling Debris
Theatre Collapses Injures Dozens, Investigator Say No Criminal Liability
(Image by Sharat Ganapati)