Few among us haven't experienced it, you feel your eyes get heavy and begin to close only to startle yourself back to reality; a moment of extreme fatigue that is extremely frightening when it happens while you're behind the wheel. In modern America, being sleep deprived seems to be the norm and it is frightening to consider how many drowsy drivers are travelling at any given moment. Drowsy driving becomes even more frightening when the tired driver is at the wheel of a big rig truck. For too long, companies have incentivized drivers to push the limits and log as many hours as they can fit in a day. Our Oakland drowsy driving law firm represents those injured in accidents caused by drowsy truck drivers and also supports efforts to prevent truck drivers from driving while fatigued.
Truck Overturns in Vallejo, Driver Reports Fatigue Was Key Factor
On Tuesday morning, as ABC7 reports, a box truck overturned in Vallejo along I-80 West near the state Highway 37 overpass. Truck driver Jesus Osegura, age 24 of Sacramento, told the California Highway Patrol that he had been falling asleep and nearly collided with the back of another truck. Osegura made a sudden, abrupt turn to avoid the collision, causing the load to shift and the truck to overturn. CHP officers report that Osegura was able to climb out of the overturned vehicle but noted neck and leg pain. The incident occurred around 3 A.M.
Truck Industry and Safety Groups Debate Issue of Drowsy Driving Among Big Rig Drivers
This summer, the danger of drowsy big rig drivers took the national spotlight when actor Tracey Morgan was seriously injured in a crash allegedly caused by a truck driver who had not slept for over 24 hours. Reporting on the topic of drowsy truck drivers and relating the story of a previous drowsy driving truck accident that killed ten people, The New York Times noted: "What is remarkable about these events…is how common such accidents are."
The article calls attention to a battle between authorities attempting to pass safety regulations and an industry where miles, and time, are money. Last year, federal rules reduced the maximum number of hours a trucker could work from 82 per week to 70 per week. Drivers who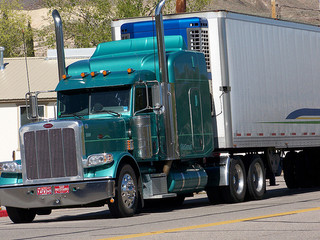 reach the high mark must rest for at least 34 hours including two segments of time between 1 A.M. and 5 A.M. The rules also include an 11 hour daily driving limit with at least one scheduled 30 minute break. Trucking industry officials say the new rules mean more trucks travelling during peak travel/traffic times. They say anti-trucking groups have overstated the issue of fatigue, suggesting drivers should be given flexibility in their work and shouldn't be given mandates on when to rest.
Safety advocates disagree, taking the position is that fatigue is actually underreported (even if difficult to prove conclusively) and has become increasingly dangerous as traffic conditions demand maximum attentiveness. Part of the reason for the debate is the fact that it is difficult to prove that fatigue was a factor in a collision. Deborah A. P. Hersman, former N.T.S.B. chairwoman and current chief executive for the National Safety Council, states: "Until we have a blood test for determining fatigue, all estimates are likely going to underreport fatigue, because the dead don't speak and the living often plead the Fifth, especially if they are facing criminal charges."
Our Northern California Drowsy Truck Driving Crash Attorney on Prevention and Representation
While exact statistics may be difficult to pinpoint, we believe it is abundantly clear that drowsy driving is dangerous. We support efforts to combat drowsy driving in all forms. We also support efforts to prevent trucking accidents given the enormous potential for damage involved. We hope that conversations about the intersection of the two continue, the issue is too important to ignore. Our Oakland drowsy driving accident law firm will also continue to advocate on behalf of those injured or killed by drowsy drivers, whether the driver was behind the wheel of a large truck, a passenger car, or even operating a motorcycle.
See Related Blog Posts:
Sentencing in Sonoma Puts Spotlight on Underreported Problem of Drowsy Driving
Big-Rigs & California Injury Law: Considering Accident Law Following Fatal Bay Area Accident
(Image by Mark Holloway)