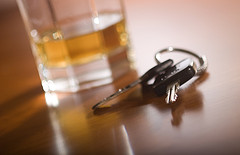 In most news stories (and blog posts) about drunk driving accidents there is at least one reference to blood alcohol concentration ("BAC"). Most readers have probably heard that the legal limit in all states is 0.08%, but it can be hard to understand what BAC really means. Today, our Santa Rosa DUI injury law firm looks at what BAC means from a driving skills standpoint.
From "Buzzed" to Legally Drunk…
In a dedicated drinking and driving fact sheet, the National Council on Alcoholism and Drug Dependence (NCADD) looks at how alcohol impacts a driver even before reaching the 0.08 mark. It is worth noting that these are generalized based on an average person and some people may experience a greater impact from the same BAC.
0.02 — A person begins to relax and experience a shift in mood. While this sounds innocuous (and despite seeming to be coordinated), there is a loss in judgment, a decline in visual processing, and a drop in the ability to perform multiple tasks at the same time, all of which can make the difference between a close-call and a crash.
0.05 — Psychomotor (muscular activity linked to mental activity) performance drops sharply. Visual perception decreases; eyes move slower and the ability to track moving objects is reduced. Reaction times slow and it is harder to respond to emergencies.
0.08 — Effects increase as muscle coordination and perception are reduced. Skills essential to driving like judgment, danger-detection, reasoning, self-control, and general information processing ability are inhibited.
…And Higher BAC Levels
Of course, continuing to drink past the legal limit means even greater impact. According to the Press Democrat, preliminary tests on a driver arrested in Cloverdale recently put his BAC at 0.24, nearly three times the legal limit. Police had to block the Ukiah man's path with a patrol car in order to get him to stop and it is only luck that prevented a much more tragic outcome.
A resource page produced by nonprofit B.R.A.D. 21 (founded in memory of a young man who died from acute alcohol poisoning) provides insight into what happens at higher BAC levels such as detected in the Cloverdale case. In brief, higher levels impact the drinker as follows:
0.10-0.125 – Significant motor coordination impairment. Balance, vision/hearing, and reaction times are diminished. Judgment is also significantly impaired.
0.13-0.15 – Gross impairment of motor skills, major loss of balance, lack of bodily control. Severe impact on judgment and perception.
0.16-0.19 – In simple terms, "sloppy drunk."
0.20 – Nausea and vomiting may occur. The drinker feels increasingly dazed and disoriented. Many people need help just to stand.
0.25 – Severe impairment of all mental, physical, and sensory activity. Increased risk of serious injury from falls. Subject may pass out and die from choking on his/her own vomit.
0.35 – Akin to surgical anesthesia, coma can occur.
0.40 and up- Death from respiratory distress becomes a distinct possibility.
To put it lightly, alcohol and driving do not mix. As a recent campaign noted, "buzzed driving is drunk driving." The only safe BAC for driving is 0.
A Message Worth Repeating
We talk a lot about drinking and driving in these pages. There are two reasons why we risk sounding like a broken record: 1) If we can prevent even one death or serious injury, it's worth it; 2) We want families to know that when the very worst happens they are not alone and someone is ready to help. Notably, a civil case may exist based in part on alcohol consumption even if the responsible driver was UNDER the legal limit.
If you have been injured or lost a loved one in a DUI crash in Sonoma County or elsewhere in Northern California, we are here to help. Call anytime. Our team will fight for you. We cannot reverse time but we can get you the monetary compensation you need in the wake of a terrible car crash. We promise to treat you with respect and to never forget it is an honor to represent you.
See Related Blog Posts:
Understanding Blood Alcohol Content in the Aftermath of a Fatal Single-Car Crash in Berkley
(Image by James Palinsad)