It's the type of news story that always grabs attention. Yet, it is also an event that happens much more often than you might imagine. As the following blog post notes, vehicle-into-building crashes happen dozens of times each day in the United States. These crashes can cause injuries and death, putting the driver, the building occupants, and other bystanders at risk. Depending on the circumstances, the driver and building management may be liable to those injured in the crash. Our Alameda County injury attorney is prepared to help the injured and those who have lost a loved one recover needed compensation from all those responsible for the crash.
Car Plows Into Newark Macys Store
Last week, ABC7 reported on an accident in Newark, a California city located about 25 miles south/southwest of Oakland. Shortly before 5 AM on Wednesday, a car jumped a curb and crashed into the Macys store at NewPark Mall located south of Interstate 880. A 63 year-old woman was driving the vehicle which ended up about 50 feet inside of the store. Six people, the driver and five bystanders, were taken to the hospital including one customer in serious condition. A subsequent ABC7 article indicates one young woman nearly lost her right foot in the incident and one man remained hospitalized the next morning. Police believe the driver may have suffered some form of medical condition that contributed to the crash.
Vehicle-Into-Building Crashes: Statistics & Causes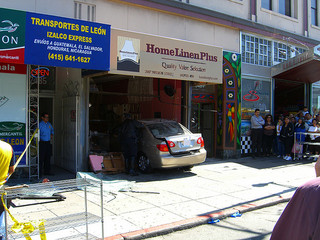 According to the Storefront Safety Council ("the Council"), crashes occur more than 60 times each day and cause more than 4,000 injuries and 500 deaths each year. Founded by a man who was injured when a car crashed into a 7-Eleven store in 2008, the Council's research has been cited by numerous sources including ABC World News Tonight, the Miami Herald, and the journal Risk Management. California has the second highest number of vehicle-in-building crashes.
What causes cars to crash into buildings? The Council's research suggests that 36% of the crashes are the result of pedal confusion and 17% involve another form of operator error. Additionally, 20% of vehicle-in-building crashes involve drivers under the influence of alcohol or drugs. A whopping 45% of vehicle-in-building collisions involve the 19% of licensed drivers who are age 60 and older. Discussing accident prevention, the Council suggests that focusing on reducing driver error is important but is insufficient to keeping vehicles from slamming into buildings. The Council strongly advocates for installing barriers to protect "vulnerable buildings," their occupants, and other bystanders.
Liability & Compensation
Vehicle-into-building crashes can cause serious injury or even death. As with all of our accident cases, when handling a vehicle-into-building case our Oakland car crash injury lawyer works to help the victims recover compensation from all responsible parties. In some cases, particularly where a building owner knowingly took risks and failed to install appropriate safety barriers, a claim against the property owner may be appropriate. Repeat vehicle-into-building crashes are more common than most people would imagine. A claim against a negligent property owner or manager would typically be in addition to a claim against the driver. These claims not only help victims recover needed compensation, they also hold people responsible for their actions or, as in the case where an owner chooses not to erect a safety barrier in a misguided attempt to save money, their inactions.
See Related Blog Posts:
Utility Pole Collisions
Guardrails: When a Safety Device Becomes Dangerous
(Image by Fred Sharples)