Driving is a risky activity and far too many of us fail to give it the attention it deserves, especially when we're travelling a common route. For many, trips begin by putting the vehicle in reverse and backing out of a garage or driveway. While drivers may be on the lookout for other traffic, sometimes people neglect to look directly behind them, assuming their usual path is clear. Drivers may also look too quickly, only glancing long enough or carefully enough to register the presence of large objects like another car. It is this type of everyday neglect that leads to tragic backover accidents. Our San Francisco backover accident attorney represents the victims of these terrible accidents and their families, a group that all too often includes injured children or grieving parents.
Backover Crashes & Child Victim Statistics
Backover accidents is one of the focal issues for the non-profit group KidsAndCars.org. In a Backovers Fact Sheet, they note that every year thousands of children are injured or killed because a driver failed to see them when backing up. Most of these backovers occur in either a parking lot or a residential driveway. In a typical week, 50 children in the U.S. are involved in a backover incident including 48 who are treated in emergency departments and two who are fatally injured. Children between 12 and 24 months are the most common victims and in 70% of backover accidents either a parent or other close relative is the driver. Most of these backover incidents involve a larger vehicles like a van, truck, or SUV.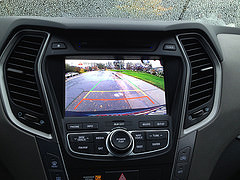 New Rules Aimed at Preventing Backovers
In 2014, the National Highway Traffic Safety Administration ("NHTSA) issued a rule requiring that all new vehicles under 10,000 pounds have rear visibility technology by May 2018. According to the press release, the rule "enhances the safety of these vehicles by significantly reducing the risk of fatalities and serious injuries caused by backover accidents." The NHTSA's statistics are even more shocking than those cited by Kids & Cars, in part because the NHTSA includes all ages, with the agency attributing 210 fatalities and 15,000 injuries annually to backover accidents. In order to comply with the new rule, vehicles must carry equipment that allows the driver to see a 10 foot by 2- foot zone immediately behind the vehicle. Other requirements in the rule address durability, image size, and deactivation.
Dual Goals of Prevention and Compensation
The NHTSA action will help keep children and other safe. However, ultimately it is up to the driver to use the equipment and to check twice before putting a vehicle in reverse. If you, your child, or another loved one has been injured or killed in a backover accident, we can help you hold the responsible parties accountable and help you recover the compensation you need and deserve. We understand that cases involving children are particularly emotional and we promise to always respect our clients and, in the case of a fatality, the memory of their child. Monetary damages are particularly important in cases involving seriously injured children who will live with the consequences of the incident for the rest of their lives.
See Related Blog Posts:
The Surprisingly Common Danger of Vehicles Crashing Into Buildings
Northern California Product Injury Lawyer Examines Recall Linking Unexpected Braking to Ignition Panel Design
(Image by Ray Bouknight)