It is a truth we've repeated often in these pages and a truth we'll likely repeat many times in the future — drunk driving kills. We see this truth in the faces of our clients at our Oakland drunk driving death law firm. We are proud to help these grieving families navigate the process of recovering financial compensation. We believe in this work, but we also know that no lawsuit can ever bring back a loved one lost to a drunk driving accident. For this reason, we also believe in prevention and education. The statistics on drunk driving deaths may make the problem seem overwhelming, but preventing even one death makes the fight worthwhile.
Evidence Points to Drunk Driving In Fatal San Leandro Accident
The decision to drink and drive may be to blame in the death of a woman in San Leandro on Sunday.
Lieutenant Bob McManus of the San Leandro Police Department told The Oakland Tribune that officers a driver had been travelling approximately 100mph in a Jeep along Washington Avenue around 2:30 A.M. on Sunday July 28. The driver was speeding south in the 14500 block when he slammed head-on into a Kia, with the collision causing the Kia to catch on fire. Fifty-seven year old Lomina Faumuina, who had been a passenger in the Kia, was pronounced dead at the scene. Her husband was taken to a nearby hospital in critical condition. The Jeep's driver was also taken to the hospital with multiple injuries.
Lt. McManus told reporters that evidence suggests the Jeep's driver was intoxicated at the time of the crash. Police arrested the driver on suspicion of DUI causing serious bodily injury to another individual and gross vehicular manslaughter. An investigation is ongoing.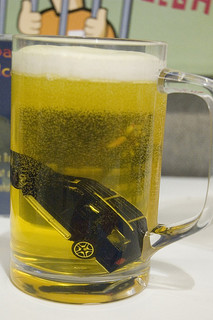 Drunk Driving Statistics
According to statistics from the California Department of Alcohol and Drug Programs (the "ADP" was eliminated and programs moved to the Department of Health Care Services effective July 1, 2013), 1,768 people died in traffic accidents resulting from drug or alcohol use in the state during 2010. Alcohol-use resulted in an additional 24,343 injuries during 2010. The ADP found that 34.7% of drunk driving accidents resulting in either injury or death involved a collision with a fixed object and 52.7% involved multiple vehicles. In a related document, the ADP cited an estimate that 31% of all fatal motor vehicle accidents involved alcohol or other drugs.
On a positive note, the ADP fact sheet reported that alcohol-involved fatalities in California dropped by 15.1% in 2010, part of a trend that began four years earlier. Interestingly, while females accounted for only 22.4% of DUI arrests in 2010, the ADP noted that the proportion of DUI arrests involving females had been rising consistently since 1989. Additionally, while drug-involved vehicle fatalities declined slightly in 2010, the 696 deaths represented a 63% increase in drug-related fatalities from 428 deaths in 2000.
Preventing Drunk Driving Deaths, One Decision at a Time
Perhaps the statistic that brings the problem of drunk driving into the sharpest focus is the fact that an alcohol-involved crash kills someone every 48 minutes in the U.S., with an alcohol-related crash injury occurring every 2 minutes. The reality of the loss behind these numbers becomes apparent when you speak to families mourning a loved one killed in a drunk driving accident. We can, and we must, continue to work to end drunk driving. It is an effort that involves preventing one accident at a time by making, or influencing, one decision. Do not drive drunk, do not let others do so. As an Oakland DUI accident law firm, we help the victims of drunk drivers. We are committed to this work, but we dream of a day when no lives are cut short by drunk driving crashes.
See Related Blog Posts:
Synthetic Drugs and the Danger of Drugged Driving
Why 21? Exploring the Drinking Age and Its Impact on Drunk Driving Crashes
(Photo by Jørgen Schyberg)