Vandalism perpetrators range from young schoolchildren who innocently write on school ground walls to immortalize/etch themselves so others will 'know' they were there to more unfortunate and harmful instances where property of both public and private individuals are damaged. Under California law under Penal Code 594, vandalism occurs when if a person "maliciously commits any of the following acts with respect to any real or personal property not his or her own, in cases other than those specified by state law…(1) defaces with graffiti or other inscribed material, (2) damages, (3) destroys. Conviction of vandalism may result in an infraction or misdemeanor if the damage is valued at under $400 with a fine and/or community service. Any vandalism valued at over $400 allows prosecutors the option of charging perpetrators with a felony charge, usually depending on the case and criminal history of suspect.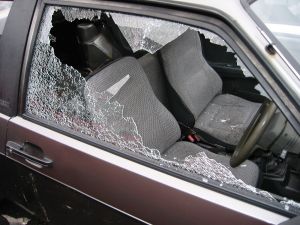 On each of the coasts, there have been recent instances of vandalism reported in the media connected with the baseball World Series and the storms that hit the east coast. Vandalism occurred on the streets of San Francisco after the San Francisco Giants swept the Detroit Tigers to become the 2012 World Champions. Joyful and exuberant fans crowded the streets into the later hours in celebration, which unfortunately led to high degrees of vandalism of both businesses and government property alike. The most well known instance of this is the setting on fire of a MUNI public bus. Pictures of the incident circulated the internet as police attempted to track down several fans pictured throwing barricades and various items at the bus front window and lighting the bus on fire.
This particular instance highlighted the destruction of government property valued at a reported $1 million, as the bus had recently been renovated through the use of a federal subsidy provided to improve some of the older diesel buses MUNI. Several individuals have been arrested in connection to the vandalism under suspicion of felony vandalism and felony damage. While this is the most popular case of vandalism in connection with the celebration, MUNI spokesman Paul Rose reports that other buses in the area have also been vandalism, albeit to a lesser extent.
Sources:
San Francisco: Oakland man arrested in Muni bus vandalism after Giants' win
"Like New" SF Muni Bus Torched In Giants Celebration, Insider Says
SF Giants Celebration Damage: 35 Arrests, 76 Fires, And One $700,000 Bus

Vandalism of private property occurs perhaps more frequently and in smaller scale situations, but can still be upsetting and costly. Greg Brod is an experienced Northern California attorney and can assist victims of vandalism in receiving due compensation.
 
https://www.youtube.com/watch?v=FllU6zerDUg