Quickly changing weather and heavy rainfalls both catch the attention of our San Francisco inclement weather collision law firm. After all, an inattentive driver is dangerous at any time, but the likelihood of that driver causing injury or death rises dramatically during bad weather. This leads to an increased risk of inclement weather crashes.
Rainy Weather Strikes Bay Area
A Saturday night headline on the San Francisco Chronicle website reported that major downpours hit parts of our region on Saturday, with up to two inches of rain falling in some North Bay locations. Although Sunday was predicted to be dry, forecasters expected wet weather to resume and continue through midweek with gusty winds and even thunderstorms (a rare sight in the Bay Area) adding to the mix.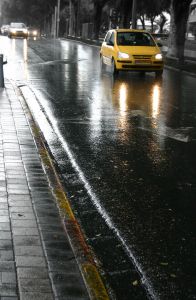 Statistics on Accidents in Inclement Weather
At the time of the article, California Highway Patrol had not reported any major weather-connected accidents. This is, of course, good news, but it is important to recognize the tie between precipitation and car accidents. The Federal Highway Administration discusses weather and roadway accidents, noting that 23% of the 5,870,000 crashes that occur each year are deemed weather-related (defined as occurring in adverse weather conditions or on slick pavement). Weather-related crashes cause more than 480,000 injuries and claim 6,250 lives annually in the United States. A majority of weather-related crashes involve wet pavement (74%) and nearly half (46%) occur during rainfall.
Wet Weather Driving Tips, Part One: Precautions and Preparation
An overarching message in The AAA Exchange's Wet Weather Driving Tips is that preparation is key. Maintenance is a major element of preparation. Drivers should always ensure that their vehicle's lights are in working order, from head and taillights to brake lights and turn signals. Lights, of course must be turned on to be of use and drivers should make sure lights are on during wet weather (check even if you have automated lights). California law mandates that anytime your wipers are in continuous use, your lights be activated as well. Wipers also require maintenance and blades should be replaced when they start to leave streaks. Tire maintenance is also critical. Drivers should monitor tire pressure (see your manual for details and optimal pressure readings) and tread depth. An easy tread depth check (that should be performed on each tire): Place an upside-down quarter into the grove, if any space is visible above Washington's head, you need a new tire and the current one is rapidly becoming a hazard).
Wet Weather Driving Tips, Part Two: Slow Speeds and Smart Spacing
Beyond preparation, drivers need to know what to do in the moment. The overarching message: Slow down and leave extra room between vehicles. Travelling at a slower speed helps prevent hydroplaning and the extra space provides the longer stopping distance needed in inclement weather while giving drivers time to respond to unexpected issues. Avoiding sudden, severe movements (i.e. hard braking, sharp turns) can help the driver maintain vehicle control. Likewise, drivers should avoid cruise control so they can slow down by easing off the accelerator, rather than braking which can cause skidding or hydroplaning. Those specific risks are discussed in a prior post on wet weather, linked below.
California Accident Law
Preparation and driver education can help prevent inclement weather crashes. Importantly, weather is not an excuse for negligence. If another driver fails to take reasonable safety precautions, including failure to maintain a safe and operational vehicle, and this negligence leaves you or a loved one injured, we can help you get monetary compensation. Our Northern California car accident attorney has injury law offices in Oakland, San Francisco, San Jose, and Santa Rosa.
An important reminder — Accident law does not require perfection. You may be eligible for damages even if your own actions contributed to the accident. For example, if you were travelling six miles above the speed limit when you were hit by a driver who ran a stop sign and who couldn't stop afterwards because his bare tires were useless in the rain, you may still win civil damages. Call to discuss your unique case.
See Related Blog Posts:
Wet Weather Targets the Sacramento Region
San Francisco Accident Lawyer Considers Factors that Contribute to Fatal Car Crashes
(Photo by n yfe, a sxc.hu user)