Our court system relies on judges and juries, trusting them to reach a fair decision based on the facts before them, putting aside any personal biases. Still, in our work as a San Francisco motorcycle accident law firm, we have learned that we need to fight a commonly-held bias against motorcycle riders. Many people assume riders are risk-takers who think nothing of darting in and out of traffic at high speeds. This bias is both unfair and often grossly inaccurate. We have worked with many motorcycle riders who prioritized safety but suffered injury due to an inattentive automobile driver. When we represent these riders and their families, we make sure the judges and juries see the truth — most riders care about safety, but they face constant threats from drivers who negligently fail to watch for motorcycles and refuse to share the road.
Marine Returns from Afghanistan to be Killed by Drunk Driver vs. Motorcycle Collison
A United States Marine survived his tour in Afghanistan only to be killed by a suspected drunk driver on Tuesday, according to The San Francisco Chronicle. At about 1 A.M., 23 year old Alexander Yohn of Emeryville reportedly used the drive-through at the Taco Bell at Fremont Boulevard and Bonde Way. An employee called police, saying that Yohn was belligerent and appeared intoxicated. Yohn sped off on Fremont, refusing to yield when a different officer tried to stop him. Near Decoto Road, Yohn hit motorcyclist Andrew Silva, killing the 23 year-old lance corporal who had just returned home to Union City last month. Yohn's Mini Cooper caught fire after crashing into a utility pole and police caught him as he tried to flee on foot. He was booked into Santa Rita Jail and charged with hit-and-run and gross vehicular manslaughter while intoxicated.
Study: Most Motorcycle vs. Auto Crashes Cause By Driver of Other Vehicle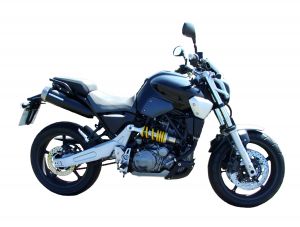 An interesting study out of Florida found, contrary to popular bias, car and truck drivers were at fault in a disproportionate share of motorcycle crashes. Last year the Fort Lauderdale area Sun Sentinel reported on research in which the Florida Department of Transportation and researcher Chanyoung Lee looked at motorcycle crashes in Florida across a 10 year span. They found that the other motorist was at fault in 60% of crashes involving a motorcycle and a four-wheel vehicle. To be fair, they note motorcycle riders were involved in significantly more single-vehicle accidents than automobiles, accounting for 34% of motorcycle accidents versus 19% of auto accidents. Of course, single-vehicle accidents can be caused by another vehicle's actions (ex. a rider may swerve off-road to avoid a car that switched lanes without checking for a smaller vehicle).
Still, the FDOT study found most motorcycle crashes did involve another vehicle and the other vehicle was at fault in a majority of these crashes. Often, the driver turns left without yielding properly and turns into the path of a motorcycle travelling straight. Lee found drivers may yield automobiles but not motorcycles since the former appear more intimidating and they judge motorcycles to be further away. Surveyed drivers said they didn't expect to see motorcycles (notably, those with motorcycle licenses reported seeing more motorcycles on the road than those without) and Lee found the lack of awareness a common culprit in accidents. Motorcycle riders report that unaware motorists are a constant threat.
Representing Motorcycle Riders and Overcoming Bias
We know that most motorcycle riders value safety and act accordingly. Like most other accident cases, the majority of motorcycle injury cases settle before trial (side note: while we provide our professional insight, agreeing to a settlement is always ultimately the client's call). When a motorcycle injury or motorcycle fatality case does go to trial, we make sure that the jury understands the fact and does not rule based on preconceived biases. This process, which is carried through from jury selection to closing arguments and jury instructions, allows us to fight for injured riders and hold drivers accountable when their negligence and/or "motorcycle-blindness" leads to a tragic accident. Call to schedule a free consultation at any of the convenient offices of our Northern California motorcycle injury lawyer in San Jose, Santa Rosa, Oakland, or San Francisco.
See Related Blog Posts:
The Importance of Motorcycle Education
Motorcycle Safety Research: Reviewing the 1981 Hurt Report and Calling for Updated Research
(Photo by David Butler)