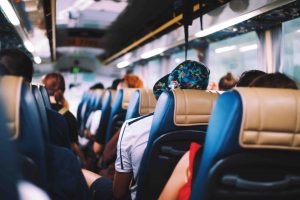 With over 4,000 large truck and bus accidents resulting in fatalities in the United States in 2016, it is clear that accidents can happen even on vehicles we typically deem to be safe. Whether you are traveling on a local bus, like a Muni bus, or a long haul bus, like a Greyhound, it is not always possible to avoid accidents and injuries. If you have been injured in a bus accident, make sure you know who is responsible and what your remedies are. Call an experienced personal injury attorney in your area to talk through your case and learn about your options moving forward.
Types of Buses in California
For most San Francisco natives, Muni and Greyhound are the two main types of buses used to get around. However, there are a variety of buses in the Bay Area that cater to other audiences, like tourists. Tour buses and school buses are just as prone to accidents as Muni or Greyhound buses and can be held liable in case of an accident that results in injury to its passengers.
Who is Responsible in a Bus Accident?
There can be one or multiple parties responsible in a bus accident. Responsible parties may include the following:
Bus driver

Bus owner

Bus manufacturer

Bus parts supplier

Bus maintenance company

Bus driver's supervisor

City

County

State

Tour bus operator

School bus operator

Charter bus operator

Owner of the bus stop where the accident occurred

Drivers of other vehicles involved
It is rarely the case that bus accidents result from the clear fault of only one person or entity. Rather, in most cases, multiple people or entities share responsibility in a bus accident. In California, you can still recover from other responsible parties even if your actions contributed to the accident. However, your award will be reduced by an amount proportional to the amount of fault you were deemed to contribute to the accident.
How to Prove the Other Person was at Fault
In order to show that someone else was at fault for your bus accident, you must show the following:
The other person owed you a duty of care,

That person breached his or her duty of care, and

That breach was a substantial factor in causing your injuries.
Since there are oftentimes so many moving parts in a bus accident, make sure you speak with an attorney to determine who was at fault in causing your accident and whether multiple parties may be at fault. An experienced Santa Rosa or San Francisco personal injury attorney will also be familiar with California vehicle codes that govern bus drivers, such as how many hours a bus driver is permitted to be behind the wheel.
Contact a Santa Rosa or San Francisco Personal Injury Attorney Today
The attorneys at Brod Law Firm have years of experience fighting for the rights of bus accident victims. Our main mission is to make you feel whole again after being injured in a bus accident, and we will not stop trying until you have gotten what you need. If you have been injured in a bus accident, contact us at (800) 427-7020 or visit us online to schedule your free consultation.  
(image courtesy of Annie Spratt)