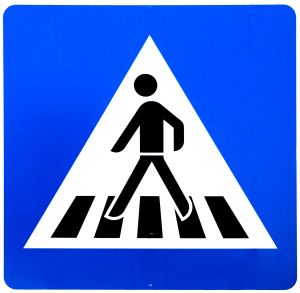 When there is a collision between a motor vehicle and a pedestrian, the encounter is almost always a no-contest situation – the pedestrian usually emerges as the decided loser from the collision. Unfortunately, San Francisco pedestrians were on the wrong and fatal end of an encounter with a motor vehicle 21 times in 2013, the highest number of pedestrian fatalities in the city since 2007. And San Francisco personal injury attorney Gregory J. Brod is particularly troubled that the city set a six-year high for pedestrian fatalities.
According to the San Francisco Chronicle, the unenviable numbers for pedestrian fatalities in San Francisco were registered through a deadly December, when six people died, including two on New Year's Eve alone. But while the city did not surpass the 24 deaths recorded in 2007, the number of collisions between pedestrians and motor vehicles has been on an upward trajectory every year since 2009, when there were 734 collisions, to 2012 when there were 948 such collisions. The number of collisions for last year is not yet available.
There have been some notable cofactors involved with pedestrian fatalities or injuries in San Francisco, including the following:
The higher a motor vehicle's speed, the more likely the pedestrian it strikes will die, as 90 percent die when the vehicle is traveling at 55 mph, 50 percent die at 40 mph, and 10 percent die at 25 mph
The failure of a motorist to yield to a pedestrian is cited as the cause of more than 40 percent of pedestrian collisions
Of those pedestrians who are injured in a collision with a motor vehicle, 70 percent sustained their injuries in an intersection
Approximately one-fourth of pedestrians injured are struck by motor vehicles making a left turn; 10 percent are injured by drivers making a right turn
Sixty percent of all severe injuries and fatalities occurred on just 6 percent of San Francisco's total miles of streets
A more dangerous environment for pedestrians in San Francisco has become evident even as the city has long had a reputation for being one of the most pedestrian-friendly cities in the nation. Indeed, city officials have long vowed to address pedestrian safety, and successive mayors have made a reduction in the number of severe injuries and fatalities a municipal priority.
Interestingly enough, when it came to assessing fault in fatal collisions between motorists and pedestrians in 2013, the San Francisco Police Department put the blame on the motorist in 14 of the 21 cases and determined that the pedestrian was at fault in seven of the cases.

Regardless of who the police determine is at fault in a collision between a pedestrian and a motor vehicle, the pedestrian should seek the counsel of an experienced personal injury attorney to pursue the compensation they deserve for their damages. If you or a loved one has been injured or killed in a collision with a motor vehicle, please call the attorneys at the Brod Law Firm for a free consultation.
-James Ambroff-Tahan contributed to this article.
See Related Blog Posts:
S.F. Hit-and-Run Pedestrian Fatality Latest in Disturbing National Trend
Young Sacramento Pedestrian Dies in Crosswalk Crash
Pedestrian Safety Tips Following Series of Fatal Pedestrian Accidents