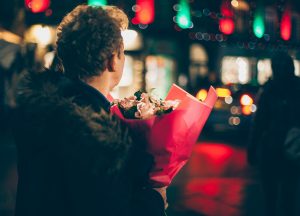 Valentine's Day is by no means the busiest times of year for police officers looking for drunk drivers. However, it is one of those nights every year when you may be tempted to have too much wine or an extra cocktail before the drive home. When you are out enjoying a romantic evening with your significant other, it is easy to splurge on the bottle instead of a glass or take in a nightcap before ending the evening. Unfortunately, this puts you at risk for driving with a blood alcohol content over the legal limit of .08% and causing an accident. Even if you keep the drinking to a minimum this Valentine's Day, you may want to consider other drunk drivers on the roads and avoid driving.
Tips to Avoid an Alcohol-Related Accident on Valentine's Day
When you plan a romantic evening for you and your partner, the last thing you want is a DUI or alcohol-related accident to spoil the mood. To avoid an accident, consider these romantic ideas:
Hire a private car for the evening:

Nothing says you love and appreciate your partner like hiring a chauffeur for the evening. You could go with an rideshare company or a taxi, but you could also hire a limo or private car for the evening, ensuring you and your loved one can enjoy your favorite beverages without guilt.

Book a stay at a hotel for the night:

If you want to deal with traffic as little as possible, which is always a great idea in San Francisco, consider booking a stay at a hotel with a well-reviewed restaurant. After checking in, you can enjoy a delicious meal and as many drinks as you want before you simply head back to your room.

Create a unique night in:

You do not have to leave the comfort of your own home to enjoy Valentine's Day. Send the kids to their grandparents or a sitters and set the scene in your own living or dining room. If you want to go all out, consider hiring a chef for the evening meal.

Choose your own Valentine's Day:

Yes, Valentine's Day is February 14, however, that does not mean you cannot push your celebration back from Tuesday to the weekend. If you are worried about crowded bars, overly booked restaurants, and rideshare surge prices, consider waiting until the weekend for your own unique Valentine's Day celebration. This idea can be combined with any of the other tips.

Abstain from alcohol:

Sometimes the most romantic way to spend Valentine's Day is to remain fully in the moment with your partner. This may be easier if you both purposefully abstain from alcohol for the night.
What to do if You are in an Accident
You may do your best to avoid a DUI on Valentine's Day, but you cannot entirely avoid being hit by a drunk driver. If you and your date are injured in a car accident caused by someone who had been drinking that night, you should speak with a personal injury attorney as soon as possible. If the other driver blew over a .08% or was ticketed for a DUI, this can be used as evidence of negligence and bolster your claim for recovery compensation.
Contact a San Francisco Personal Injury Lawyer
If your Valentine's Day was ruined after you were hurt in an alcohol-related accident, call Brod Law Firm right away at (800) 427-7020 to learn about your legal options. You may need to file an insurance claim with the other driver's auto insurance provider or file a personal injury lawsuit in court. We can analyze your situation, determine fault, and help you seek compensation for your injuries, including medical expenses, lost wages, and pain and suffering. Contact us today to schedule a free consultation.
(image courtesy of Clem Onojeghuo)