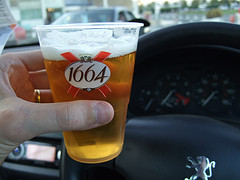 According to the Centers for Disease Control, 10,322 people died in alcohol-related crashes in 2012. This means that nearly 30 people die every single day in the U.S. in crashes involving an alcohol-impaired driver, one life lost every 51 minutes. As a drunk driving crash law firm in Santa Rosa, we never forget that there are real people behind every statistic. The impact of drunk driving is very real.
On occasion, we like to use this forum to look at specific stories of drunk driving's impact. Since our practice focuses on the victim, we often highlight stories that help readers appreciate the real people behind these numbers. Our goal in doing so is to remind readers that there are real faces behind the numbers and hopefully make people think twice before stepping behind the wheel.
A Young Family Forever Changed by a Drunk Driver
In December, CBS Sacramento looked at the journey one family faced after a near-fatal crash believed to have been caused by a drunk driver. A twenty-two year old woman was driving with her brother and her eight-day old baby in the car when they were involved in a six vehicle pile-up. Miraculously, the baby suffered only a few bruises, protected from the glass and mangled metal by his car seat. His mom, who was only one class shy of becoming a pre-school educator, was not nearly so lucky. She was hospitalized with a cracked spine, broken pelvis, lacerated liver, and ruptured spleen. In addition to her stay in intensive care, a stay that took away her time to bond with her newborn son, she will require months of therapy and will have to move to a home that doesn't require climbing stairs. The baby's uncle also suffered six broken ribs and a collapsed lung.
A Continuing Problem
Stories like that take our breath away. There is so much pain behind the statistics and the saddest part is that impaired driving accidents are preventable. It is hard for us, as victims' advocates, to understand the decision to drive drunk. Yet, people do. Just this week the Santa Rosa Press Democrat reported on several impaired driving incidents. In one case, a 28 year-old man was stopped going 77mph in a 55mph zone. Police found an open bottle of whiskey in his vehicle and learned he had a suspended license and was wanted on an arrest warrant related to a drunk driving incident. Officers suspect he was once again driving under the influence. In another case, a woman was clocked driving 86mph. Police checked her license and learned she already had two DUI convictions and eight license suspensions. Preliminary tests put her blood alcohol level at more than three times the legal limit and police once again placed her under arrest.
Our Long-Standing Commitment to Prevention and Representation
There is no excuse for drunk driving. If you or someone you love has been the victim of a drunk driver, we can help you recover compensation. This money can help you pay your bills, cope with lost wages, and deal with the lasting consequences of a crash. We cannot undo the harm, but we can help you move forward. We can also continue to ask our readers to prevent future tragedies by opting not to drive impaired and pressing those you love to make the same commitment.
See Related Blog Posts:
Repeat Drunk Drivers: A Look at the Problem of DUI Recidivism
Back to Basics: 2012 Accident Figures and a Reminder of the Importance of Injury Counsel
(Image by James Cridland)