The use of buses as a means of transportation up and down the state of California has been growing in popularity in recent months. Just a couple of months ago, Megabus, a bus and coach company that runs throughout Europe, the United States, and Canada offered a special holiday deal for trips between southern and northern California that started at $1 one way. Travelers flocked to purchase this deal, hoping the cheap deal would get them to their destination in a timely and safe manner. These types of bus deals and tour buses offer their clientele an alternative to costly plane tickets and for the most part, are used without incident.
Tragic Bus Accident on the State 38
Sunday night however, a tour bus group of approximately 38 Mexican passengers, including the bus driver and tour guide, was involved in a horrific accident on the California State Route 38. Interbus offers Mexicans near-daily bus tours to western U.S. from Tijuana. On Sunday, this particular group was heading back to Tijuana from a snow trip to Big Bear Lake when the bus rear-ended a Saturn sedan, flipped, and hit a Ford pickup truck. An individual involved in the investigation said the bus had been slowly making its way down the hill when it suddenly sped up for an unknown reason. Following its contact with the Saturn, the bus traveled about a mile until it finally came to a stop, ending sideways across both lanes with its windows blown out, front end crushed, and part of the roof peeled back.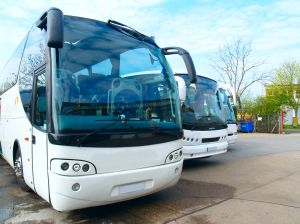 There have been 8 reported fatalities with dozens more transported to hospitals with injuries ranging from minor to severe. 17 victims are still hospitalized. A California Highway Patrol Officer stated that the death toll was expected to rise. As the accident occurred just last night, an investigation is still ongoing to determine the cause of the accident, with fault most likely either lying with mechanical or driver error. Jordi Garcia, the marketing director of Interbus, stated that his company had rented the bus from Scapadas Magicas, which is based in National City, California, and that everything points to faulty brakes. The bus driver said that the vehicle had brake problems and further information shows that the bus had recorded 22 safety violations in about a year, including problems with its brakes, windshield, and tires. In fact, the company itself has failed more than 1/3 of federal vehicle safety inspections in the last 2 years. The national average stands at 21%.
In the days following this tragic accident, many questions of who is at fault will be asked. Victims and the public alike will want some party to be held accountable for the surely unavoidable accident. Until an official announcement is made about the results of the investigation, no cause can be said for sure. For now, signs point to the negligence of the bus company to maintain their buses to the safety standards set forth by federal law. Victims will likely file claims in order to receive compensation for the injuries and suffering sustained. Bus accidents are no small matter. Injuries sustained in accidents involving buses are often serious due to the size of the vehicles. If you or a loved one has been involved in a bus accident, contact our Bay Area bus/car accident injury firm today for a free consultation today.

Sources:
Bus Passenger Describes Terror Before California Crash
California Bus Crash