When we hail a cab or, the modern-day equival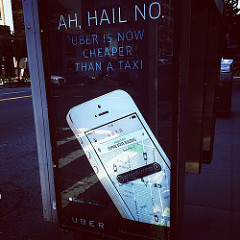 ent, call for an Uber, we expect to be getting a safe ride to our location.  That's what we pay them.  In fact, often people are trying to make the safe choice and responsibly avoiding driving while intoxicated.  However, a senseless act of violence in Michigan and a lawsuit pending here in California are both drawing attention to the safety of taxis and Ubers.  As a taxi accident lawyer in San Francisco, Greg Brod has experience advocating for those injured when then entrusted the driving to someone else.
Uber Driver Suspected in Spree Shooting in Michigan
According to CBS SF, San Francisco-based Uber recently confirmed that the man who allegedly went on a shooting spree and killed six people in Kalamazoo, had passed the organization's background check.  An Uber passenger claims to have called to report an erratic driver over an hour before the shooting rampage allegedly began, saying the driver began blowing past stop signs, driving through medians, and sideswiping vehicles just after receiving a phone call.  About an hour later, the first shooting occurred and seven more shootings occurred over the next several hours before the suspected perpetrator was arrested.  Uber officials have expressed sorrow and horror.  The company prohibits drivers and passengers from having weapons in an Uber vehicle.
Uber's Safety Processes Question in Lawsuit
As CBS notes, this is not the first time Uber's driver vetting process has come into question.  In a settlement that has yet to be approved, Uber agreed to pay $28.5 million to some 25 million riders who used the service between January 1, 2013 and January 31, 2016.  The lawsuits at issue called into question Uber's "safe ride fee," alleging that despite collecting such a fee Uber had not adequately screened the service's drivers.  Uber has released a statement saying no transportation means can truly be 100% safe and pledged to use precise language in its safety-related statements.
Taxi and Uber Safety and California Law
The shooting in Kalamazoo is a tragedy and our hearts go out to the victims and their families.  Certainly, we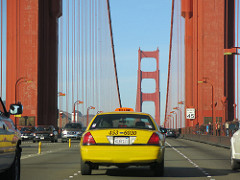 should be able to expect that for-pay drivers will not commit such atrocious acts of violence.  We should also be able to expect that Uber drivers and traditional taxi drivers will exercise safe driving behaviors.  Sadly, accidents involving taxis and similar vehicles are far too common.
Under California law, taxis, buses, and similar services are deemed "common carriers" which means they must go above and beyond the level of responsibility/accountability expected of other drivers.  California Civil Code 2100 provides:
A carrier of persons for reward must use the utmost care and diligence for their safe carriage, must provide everything necessary for that purpose, and must exercise to that end a reasonable degree of skill.
Further described in the California Civil Jury Instructions 902, Duty of a Common Carrier the law requires that:
Common carriers must carry passengers [or property] safely. Common carriers must use the highest care and the vigilance of a very cautious person. They must do all that human care, vigilance, and foresight reasonably can do under the circumstances to avoid harm to passengers [or property].

While a common carrier does not guarantee the safety of its passengers [or property that it transports], it must use reasonable skill to provide everything necessary for safe transportation, in view of the transportation used and the practical operation of the business.
A Law Firm for People Injured in Taxi, Bus, or Uber Accidents in Northern California
If you are injured in a bus, Uber, or taxi accident in California, you have rights.  These rights may extend beyond the basic rights that apply to anyone injured in a car accident due to someone else's negligence or wrongdoing.  You may have a claim against the taxi or ride-share company and their insurance carrier.
For those injured in a Northern California taxi crash, our taxi injury law firm in San Francisco, Oakland, and Santa Rosa is here to help.  Call for a free consultation.
See Related Blog Posts:
San Francisco Lawyer Comments on Taxi Accident Law After Pedestrian Dies in Cab Collision
(Image of Uber ad by Jason Newport; Image of taxi by torbakhopper)