When we hail a cab or, the modern-day equival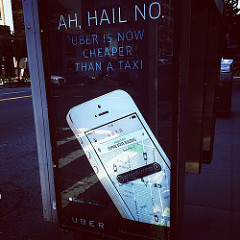 ent, call for an Uber, we expect to be getting a safe ride to our location.  That's what we pay them.  In fact, often people are trying to make the safe choice and responsibly avoiding driving while intoxicated.  However, a senseless act of violence in Michigan and a lawsuit pending here in California are both drawing attention to the safety of taxis and Ubers.  As a taxi accident lawyer in San Francisco, Greg Brod has experience advocating for those injured when then entrusted the driving to someone else.
Uber Driver Suspected in Spree Shooting in Michigan
According to CBS SF, San Francisco-based Uber recently confirmed that the man who allegedly went on a shooting spree and killed six people in Kalamazoo, had passed the organization's background check.  An Uber passenger claims to have called to report an erratic driver over an hour before the shooting rampage allegedly began, saying the driver began blowing past stop signs, driving through medians, and sideswiping vehicles just after receiving a phone call.  About an hour later, the first shooting occurred and seven more shootings occurred over the next several hours before the suspected perpetrator was arrested.  Uber officials have expressed sorrow and horror.  The company prohibits drivers and passengers from having weapons in an Uber vehicle.