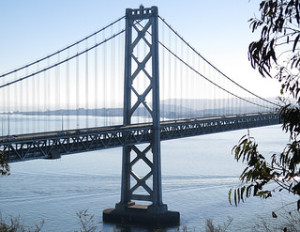 Every time we get behind the wheel of a car, we are engaging in an act of trust.  We trust that our car will function properly, we trust that other drivers will obey the rules of the road, and we trust that the roads and other infrastructure are safe.  Sadly, there are far too many structurally deficient, dangerous tunnels and bridges that put drivers at risk.  As a dangerous roads lawyer in San Francisco, with additional offices in Oakland and Santa Rosa, Attorney Greg Brod helps people injured as a result of deficient roads, bridges, tunnels, and other forms of dangerous infrastructure in Northern California.
Caltrans Investigates Bay Bridge Tunnel Problems
This week, ABC7 reported that Caltrans engineers are working to address corrosion problems discovered in the Bay Bridge tunnel.  They are performing tests on the 80-year-old Yerba Buena Island Tunnel, partially in response to an incident last month when a chunk of concrete came loose and damaged a woman's car.    Luckily, the driver was not injured, but the concrete did approximately $3,000 worth of damage to the vehicle.
Currently, ABC notes, drivers heading east in the tunnel may notice spots where concrete appears to have been removed.  That is because Caltrans removed pieces that they worried might come loose.  Part of the concern, according to an agency spokesman, is "a little bit of light corrosion on the rebar."  In order to determine soundness, workers knock a device against the wall to see if it had become hollow and thus vulnerable to breaking off.  Caltrans said they are also examining x-rays of the tunnel.
While Caltrans insists the span is safe, drivers told ABC they aren't fully confident.  The Caltrans spokesman said that the state needs to focus on the future.  In his words, ""What this speaks to in the larger picture is the need for funding and the need for maintenance of this infrastructure that is aging."
Federal Authorities: 59,000 Bridges "Structurally Deficient" Nationwide
This statement comes on the heels of a report released last week in which federal officials said some 59,000 bridges nationwide are "structurally deficient."  ABC News (national) notes that the report says the bridges are safe for travel at the moment, but have significant structural flaws that need to be repaired.  One researcher explained that the "structurally deficient" label means a key element of the span (e.g., substructure, deck, or super-structure) received a "poor" rating.  She suggested that repairs must happen before the bridges become unsafe for travel.
If the deficient spans were placed end-to-end, they would stretch 1,340 miles and could take a driver all the way from New York City to Miami, Florida.  While this still represents only 10% of the nation's bridges, the number has risen by 2,574 since 2014.  The most heavily-used bridges on the list are on urban highways, including spans in California, and some 85% were built prior to 1970.
Dangerous Roads Lawyer
If falling debris, a corroded surface, or other structural issue on a bridge or tunnel left you or someone you love injured, we can help.  Our Northern California road hazard lawyer knows the complex rules that govern suits against government entities and can help guide you through the process.  Our goals are two-fold – getting you compensation and preventing future tragedies.
See Related Blog Posts:
Structural Bridge Accidents: Fears and Realities
Oakland Dangerous Roads Lawyer on Liability for Car Accident Caused by Hazardous Roads
Dangerous Road Lawsuits: Compensation & Protection
(Image by torbakhopper)