In our modern world, sometimes it seems like we do everything online.  However, there are some industries that simply can't be outsourced or fully digitized such as the transportation of cargo from one place to another.  Cargo trucks are an important, often under-recognized, part of our economy.  However, cargo spills remain a very real problem and our San Francisco trucking accident lawyer stands ready to help people injured when transportation of cargo goes terribly wrong.
Richmond Truck Accident Buries Cars in Gravel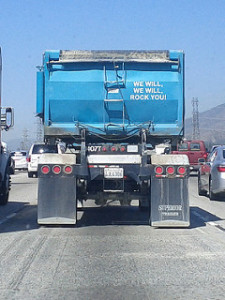 On Tuesday, according to a report on SFGate.com, a driver somehow lost control of a big-rig sending it careening down a hill in the Richmond District of San Francisco.  After sliding, the truck hit a group of parked cars and toppled onto its side, burying at least two vehicles in the truck's load of gravel.
The accident occurred around 1:30 PM near 45th Avenue and Balboa Street.  Thankfully, no one was injured in the incident but officials closed off the area for approximately 90 minutes to clean up the debris.  A San Francisco Fried Department spokesman said it was not immediately evident why the driver lost control of the rig.
The Surprising Frequency and Variety of Cargo and Material Spills
Truck spills are more common and more varied than most people might think.   In February 2016 alone, reported cargo and material spills include:
Investigating Cargo Spill Accidents, Helping Cargo Spill Victims
A myriad of injuries and even death can occur when a big-rig overturns and spills its load or when a truck accident leads to fuel being spilled onto the roadway.  Victims can include the truck driver as well as bystanders involved in the initial spill itself.  Additional victims can include drivers and passengers involved in secondary accidents due to the debris.
These cases are very fact-intensive and require close investigation by skilled experts.  Fault may lie with the truck driver, the trucking company, the organization that loaded the truck, or other drivers on the road.  At The Brod Law Firm, we work with accident reconstruction experts to determine fault and help our clients recover compensation for their injuries.  We also believe that injury lawsuits can force changes (e.g., rules regarding how much of a given good a truck can carry) that help prevent future tragedies.
A Cargo Spill Lawyer in San Francisco, Santa Rosa, and Oakland
If you have been injured in a Northern California cargo spill, call our office at (800) 427-7020.  We have offices for our cargo spill law firm in Oakland, San Francisco, and Santa Rosa to serve your needs.
See Related Blog Posts:
Cargo Spills: Northern California Truck Accident Lawyer on the Danger of Unsecured Truck Loads and Shifting or Spilling Goods
Bay Area Lawyer on the Danger of Big-Rig Crashes
(Image by Shal Farley; picture does not reflect truck involved in accident)