The family has gathered, the feast has been eaten, and the hosts are contemplating the inevitable leftovers.  Today is the unofficial kickoff to the holiday shopping season, although it seems like some stores have been holiday-ready for weeks!  As you begin to think about gifts for the youngest set, we urge you to consider the issues of toy safety.  Some of the hardest cases we see in our office involve children and our San Francisco, Oakland, and Santa Rosa toy injury lawyer wants children in Northern California and worldwide to enjoy a fun and safe holiday season.
WATCH Releases 2015 10 Worst Toys List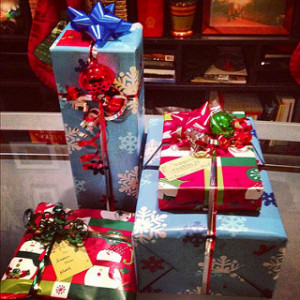 World Against Toys Causing Harm,  a mouthful of a name that lends itself to the handy acronym "WATCH," believes (as does our firm) that "One injury to one child as a result of a poorly designed or manufactured children's product is one too many."  Sadly, the group explains on its website, the toy industry makes some $70 billion worth of sales worldwide each year and with thousands of avoidable toy injuries occurring every year, WATCH believes that "safety often takes a back seat to earnings."
Continuing an annual undertaking started in 1973, last week WATCH issued a press release announcing its 2015 10 Worst Toys List, a tally of some of the toys that WATCH believes pose a risk of injury or even death.  The list is not intended to be inclusive, but instead illustrates some of the dangers lurking on toy store shelves.  While we won't name the exact toys herein, some of the hazards (many of which apply to multiple toys) that "earned" items a spot on the list include:
Parts that can break/come off or toys that children may naturally put in their mouths and pose a INGESTING, CHOKING, or AIRWAY BLOCKING HAZARD
Overly REALISTIC TOY WEAPONS that pose a range of dangers
Toys that cause an undue risk or HEAD, NECK, and OTHER INJURIES, including when used unsupervised, by young children, or without safety equipment (especially when the child on the package is not using any).
ALLERGY-RELATED dangers, particularly when only noted on "throw-away packaging"
Items with a risk of EYE and/or FACIAL INJURIES, including toys with various forms of ammunition firing capacity or long protrusions (particularly if anticipated play might raise the risk)
Toys that could cause BLUNT FORCE INJURIES, such as rigid toys that encourage battle-like play
Items with the potential to cause STRANGULATION and/or ENTANGLEMENT, including pull-type toys with cords at or over 12 inches (a maximum length for playpen/crib-play toys
Warnings, Standards, and Ethical Duties
According to WATCH, at least one of the toys contains a warning that "babies and young children have no idea what is dangerous or potentially harmful, so supervision is important."  We agree that parents should supervise children, but we also believe manufacturers have a duty to make toys that are reasonably safe for the intended audience and, as a back-up defense, issue recalls if the dangers later become apparent.
Notably, the Toy Industry Association states that:
"All toys sold in the U.S., regardless of where they are made, must be tested to verify compliance with rigorous U.S. toy safety requirements, including more than 100 safety tests and standards. These standards are shaped by a variety of considerations, including research on child development, dynamic safety testing, and risk analysis. U.S. toy safety requirements are among the most stringent in the world and are widely emulated in other markets around the globe."
A Closer Look at the Danger and Our California Child Injury Law Firm
Last month, the Consumer Products Safety Commission ("CPSC") released its "Toy-Related Deaths & Injuries: Calendar Year 2014."  According to the CPSC, the agency received reports of 11 toy-related deaths involving children under age 15 (the actual ages of the victims ranged from 13 months to 9 years) in 2014.  Additionally, the CPSC reports that hospital emergency departments in the United States treated approximately 251,800 toy-related injuries in 2014.  Of these injuries, 73% percent (183,800) involved children under age 15 and 69% (173,300) involved children under age 5.
One of our firm's core beliefs is that prevention is always best.  This is especially true when it comes to children who by their nature require adult protection.  Together, these precepts demand that toy manufacturers have a duty to produce toys that are reasonably safe.  In most cases, children cannot stand up to assert their own legal rights.  If your child has been injured by a toy or other dangerous/defective consumer good, call our child injury law firm in Santa Rosa, San Francisco, or Oakland.  We can help you obtain compensation for your child and also remind manufacturers that unsafe toys will not be tolerated, a message that can help prevent other child injuries or even child deaths.
See Related Blog Posts:
Northern California Child Injury Lawyer on Strangulation by Window Cord Blinds: The Product Danger Remains
Toy-Related Injuries in the Holiday Season
(Image by mateoutah)