Our work representing the injured involves a wide array of circumstances and varied incidents. The common link — they all stem from a defendant's negligent, reckless, or otherwise wrongful act. Having experience in a range of injury arenas is particularly helpful when, as is often the case, a single incident involves overlapping issues. Vehicle fires are a good example and our experience in both burn/fire cases and in auto accidents mean our team is well-equipped to serve as your Oakland car fire law firm.
Vehicle Being Towed Bursts Into Flames in Benica
Shortly before noon on Wednesday, according to the Contra Costa Times, a passenger car being towed from Point Reyes to Pittsburg burst into flames on Eastbound Interstate 780 near Southampton Road in Benica. Firefighters arrived to find the car engulfed in flames. The tow truck and a patch of grass were also on fire. The truck driver reported that a loud pop from the car caused him to pull to the shoulder as smoke began to appear. His effort to control the flames with a portable fire extinguisher failed due to the rapidly growing blaze. Luckily, no injuries were reported. An investigation is underway.
Vehicle Fire Statistics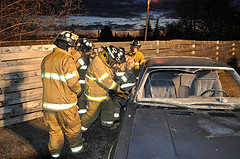 The National Fire Protection Association ("NFPA") authored a paper in September 2012 that focused on car fires that occurred in the United States between 2006 and 2010. Over that time span, the nation saw an average of 152,300 automobile fires per year that caused 209 civilian deaths and 764 civilian injuries annually. Adding in buses, freight trucks, motorcycles, and other vehicles, the 2006 to 2010 period saw an average of 223,300 vehicle fires with 329 civilian deaths and 1,221 civilian injuries. Turning back to the narrower automobile fires category, mechanical issues factored into 45% of studied fires and 11% of fire death while electrical failure or malfunction factored into 24% of auto fires and only 1% of related fatalities. In contrast, collisions and rollovers factored into only 4% of automobile fires but led to a shockingly high 60% of civilian auto fire death.
Focusing on the narrower 2008-2010 time frame, the Federal Emergency Management Agency found a somewhat lower average of 194,000 vehicle fires (includes all passenger, freight transit vehicles, and agricultural blazes) and a 300 fatality rate. Over all, highway vehicle blazes (term based on vehicle type, not location) made up 14% of the fires that fire departments responded to in the study period. Consistent with the NFPA report, FEMA's study found mechanical issues were the top cause of ignition, with mechanical failure/malfunction contributing to ignition in 44% of the vehicle fires.
Legal Counsel for Vehicle Fire Injuries in Northern California
When a vehicle fire causes injury, medical care should be the top priority. Those injured in such fires and the families of people killed in vehicle fires should also reach out to legal counsel as soon as possible. Never rely on an insurance company to conduct a fair, unbiased investigation. Call Attorney Brod and let him put his experience in both auto accident and fire injury cases to work for you. As an Oakland vehicle fire lawyer, he will work to get you money damages and you only pay legal fees if you recover compensation. Call today.
See Related Blog Posts:
Boating Fires: Causes and Seeking Compensation from At-Fault Parties
Heat Is on Tesla Motors After Company Linked to Yet Another Fire-Related Accident
(Photo by Digby Fire Department)