Methamphetamine face horrific long-term consequences including brain damage (i.e. memory gaps, inability to grasp abstract ideas), psychosis, cardiovascular damage, and premature death. Methamphetamine also poses risks to bystanders. Some of these bystander risks are akin to risks from other drugs such drugged driving, injuries caused by a user who is not in his/her right mind, and the danger/violence of the drug trade. Unique bystander methamphetamine risks include the particular dangers of production, both in the moment and after-the-fact. While we've talked before about methamphetamine production in cars, in this post our Oakland meth injury law firm looks at other production sites from a recent bust in a retirement community to a rising trend of manufacturing methamphetamine in hotels.
Meth Lab Found in Fresno Retirement Community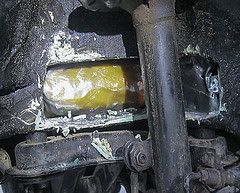 Retirement in 2014 is an ever-changing concept, with many people finding they need to look for at least a part-time job to make ends meet. According to the Associated Press (via the Oakland Tribune), one 64 year-old man appears to have turned to a second career straight out of prime time television, manufacturing methamphetamine ("meth") out of his apartment in a Fresno, California retirement community. Robert Short was pulled over in a routine traffic stop and officers found meth in his vehicle along with scales and baggies, believed to have been used in the sale of the drug. Officers put the street value of the drugs in his car at around $1,700.
After the traffic stop, investigators went to Short's apartment located in the California League-Fresno Village. There they found an additional half pound of meth along with materials believed to have been used to manufacture the drug. Heroin was also found in the apartment. Neighbors say the senior housing facility is generally a tight-knit community but that they did not know Short who chose to keep to himself. Police report that he was on supervised release related to prior drug sales.
Unique Dangers of Meth Labs in Hotels
A retirement community is certainly not where one would expect to find a meth lab, although that probably makes it the perfect place from a drug cook's viewpoint. In prior posts, we've mentioned the specific danger of mobile meth labs which employ a particularly volatile method of manufacturing and can cause vehicle explosions. Hotel rooms are another popular choice for meth makers and specific risks associated with meth labs in hotels was discussed in an Associated Press article appearing on an Indiana news site on June 1. In that report, an operations manager with a company specializing in meth lab decontamination noted that labs have recently begun to spread from lower-end motels to middle-class hotels of the sort that appeal to families.
Explosions are always a danger with meth labs and there is a particular concern with a possible fire in a location unfamiliar to most occupants. However, as the article points out, problems lurk even if no explosion occurs. Meth labs leave behind contaminants that can sicken future occupants of the room, especially those who stay for an extended period. Ingredients and byproducts like hydrochloric acid, ammonia, sulfuric acid, lithium, and pseudoephedrine may cause chest pain, problems breathing, dizziness, and irritation of the eyes and/or skin. A typical housekeeping cleaning cannot get rid of all the contaminants and a thorough cleaning by trained professionals is needed. In some cases, contamination is so severe that demolition is recommended.
To simplify matters, making meth is dangerous and hotels are one area that can be particularly dangerous for innocent bystanders. If you fall ill and learn that meth exposure may be to blame, you may have a claim against the meth manufacturers themselves or against others who contributed to the exposure. The latter form of liability is often critical since the individual defendants may not have the resources to pay a judgment. If you were exposed in North California, Attorney Brod may be able to help. Call our Northern California meth exposure lawyer to schedule a no-cost consultation.
See Related Blog Posts:
Methamphetamine Manufacturing and the Risk of Explosions Threatening Innocent Bystanders
Injury Attorney Comments on The Dangers of Meth Use
(Photo by CBP Photography)