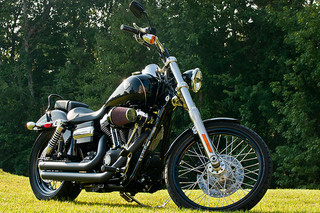 As a San Francisco injured motorcycle rider's law firm, our past experience representing riders hurt in accidents caused by negligent motorists helps us represent today's injured victims. Providing the best possible legal services also involves staying informed in the present and we are committed to staying up-to-date on the law and statistical trends. Together, past experience and present knowledge allows us to help the victims of motorcycle accidents caused by someone else's negligence, ensuring they receive the monetary compensation they need and deserve.
Fatal Hayward Motorcycle Crash
On Tuesday night, according to the Contra Costa Times, a motorcycle crash claimed the life of 28 year old David Bronaugh of Fremont. Around 8:35 P.M., a big rig exited off of I-880 South in Hayward and made a left turn onto Industrial Parkway East. Police report that Bronaugh's motorcycle, which had been travelling west in Industrial Parkway, crashed into the truck. Bronaugh was taken to a local hospital and pronounced dead. Police are investigating the crash. The truck's driver had been cited as of the time of the report.
2012 Motorcycle Statistics
This month, the National Highway Traffic Safety Administration ("NHTSA") released its Motorcycle Traffic Safety Facts 2012 Data. Dismayingly, 2012 saw 4,957 motorcyclists (including operators & passengers on 2- and 3-wheeled motorcycles, mopeds, mini-bikes, scooters, off-road motorcycles & scooters) perish in motor vehicle accidents, 7% more than in 2011 and the highest number since 2008. The 2012 data also reported 93,000 injured motorcyclists, a staggering 15% increase over 2011 and again the most since 2008. When fatalities were examined in relation to miles travelled, motorcycle riders were more than 26 times more likely to die in a vehicle crash than passenger car occupants and 5 times more likely to suffer injury.
The statistics tell a cautionary tale about both drunk-riding and speeding. While the statistics do not indicate whether either was a primary cause of the accident, 29% of motorcycle operators killed in 2012 crashes had a BAC at or above 0.08 and 34% of riders killed in 2012 crashes were speeding.
Just over half of fatal motorcycle accidents involved both a motorcycle and another type of vehicle. Notably, 41% of the fatal two-vehicle crashes involving a motorcycle and a second vehicle of another type (953 out of 2,137) happened when the other vehicle was making a left and the motorcycle was travelling straight. The statistics do not reveal further details on those incidents, but our experience suggests such accidents often occur when a driver fails to see or fails to account for an oncoming motorcycle and makes a left turn into the vehicle's path, leaving the motorcycle rider (who legally has the right-of-way) unable to avoid a collision.
Comparative Negligence: A Principle Rooted in Reality
We urge all vehicle operators, motorcyclists and drivers, to make safety a priority. We also urge those who have been injured because of someone else's negligent or wrongful acts to reach out to legal counsel.
As a reminder, California is a comparative negligence jurisdiction. This real-world principle allows an imperfect victim to recover, meaning a plaintiff can win an injury case even if she shared some of the fault. The court accounts for the shared fault in the damages stage (see Civil Jury Instruction 405). For example, suppose a court decides a motorcycle rider was 20% at fault for a collision because she was speeding while the driver of a car was 80% at fault for failure to yield (i.e. the driver made a left into the speeding rider's path). A California civil court can find the driver liable for the rider's injuries. If the court concludes the rider's injuries merit $100,000 in damages, the court will typically award the rider $80,000. This principle also applies in wrongful death cases (see Civil Jury Instruction 407).
Far too many motorcycle riders are injured or killed because of negligent drivers who do not share the road with all forms of travelers. If you were injured or lost a loved one in a motorcycle crash caused by a negligent driver, call us at our motorcycle law offices in Santa Rosa, San Jose, Oakland or San Francisco.
See Related Blog Posts:
San Francisco/San Jose Motorcycle Lawyer on Overcoming Bias
Examining the Stalled Case Against Firefighter Michael Quinn and the Role of the Burden of Proof
(Photo by Flickr user LenDog64)