There are a variety of ways to travel from Point A to Pont B. Cars, buses, trains, bikes, and planes are just a sampling of our transportation options. Notably, we often overlook the most basic and most natural – walking. At our Sacramento pedestrian injury law firm, we support efforts to make walking a more realistic option for people in our community. We applaud efforts by communities to improve pedestrian safety, a key part of opening up walking as a transportation option. Walking is a win-win, providing benefits to the individual (fitness, health, financial savings, etc.) and the community (environmental protection, public health benefits, reduced traffic, etc.) as a whole.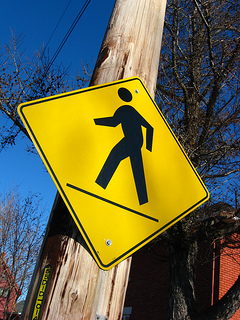 Folsom Announces Pedestrian Safety Campaign
The Folsom Police Department is beginning a campaign aimed at educating the public and improving pedestrian safety, an effort recently detailed by The Sacramento Bee. Folsom's campaign, entitled "It's Up to All of Us," looks to use law enforcement, outreach efforts, advertising, and the Internet to ultimately reduce pedestrian injuries and deaths. The California Department of Public Health is funding the effort using grant money from the California Office of Traffic Safety and the National Highway Transportation Safety Administration.
Officials may have been spurred to action by an increase in pedestrian accidents last year. In 2011, six pedestrian-involved vehicle accidents resulted in six injured pedestrians. In 2012, eleven accidents involving pedestrians left eleven pedestrians injured. Thankfully, no pedestrians suffered fatal injuries due to accidents in Folsom during the two year span.
Campaign Plans and Goals
Police Department efforts will include educational campaigns in schools and the community at large. It will also include patrols looking specifically for right-of-way and other pedestrian-related violations. Officers also plan to use decoy pedestrians to see whether drivers stop when a pedestrian is lawfully making use of a crosswalk at an intersection.
The Folsom campaign has a number of both general and more specific goals. Officer Andrew Bates reminds drivers that they are required to stop when a pedestrian is in a marked crosswalk or moving through any intersection. More generally, the campaign looks to motivate community members to walk more and to feel safe, a key issue many people cite as a reason for not walking frequently. In addition to urging drivers to slow down, Folsom officials also want to remind pedestrians to be safe. Reminders aimed at pedestrians include avoiding being distracted by a call or text when crossing a street, looking both ways before crossing, and to be proactive, never assuming that a driver spots them.
Advocating for Pedestrian Safety Throughout California and the Nation
According to the Center for Disease Control, 4,280 pedestrians died in traffic crashes in the United States during 2010, with an additional 70,000 incurring non-fatal injuries. To put this another way, one pedestrian died due to a crash every two hours and one was injured every eight minutes. Until these numbers change dramatically, improving pedestrian safety should be among the top concerns of every community. It is one of the top concerns of our legal team. We also believe in advocating for the victims of pedestrian accidents in Sacramento, San Francisco, and throughout Northern California. Call if Attorney Greg Brod can help you recover crucial money damages and send a clear message that California supports pedestrians.
See Related Blog Posts:
San Mateo Pedestrian Accident – A Reminder of an All-too-Common Safety Threat
The Dangers of Distracted Walking: Report Indicates Three-Fold Rise in Injuries to Headphone-Wearing Pedestrians
(Photo by Peter Blanchard)