We've all been there, you're driving and find yourself behind a truck carrying a load that just doesn't look secure and you imagine the load shifting and falling towards your vehicle.  Sadly, cargo spill accidents are a reality, not just the product of overactive imaginations.  Our Oakland truck accident attorney knows the law and partners with top-notch experts to hold all responsible parties financially liable for injuries caused by falling or shifting cargo.
Log Spill Near Sunol and Some Curious Examples of Cargo Load Spills
The San Francisco Chronicle reports that two big-rig trucks collided on southbound I-680 near Highway 84 at
approximately 6:10 AM on Monday.  The collision caused one truck to spill its load of lumber onto the roadway
near Sunol.  While it took crews till 1:20 PM to completely clear the trucks and debris so that all lanes could be reopened, thankfully no one was injured in the incident.
A quick internet search reveals that cargo load spills are relatively common and involve a wide-range of goods.  Some of the more "unique" items spilled onto U.S. roadways in 2015 include:
Of course, there are also many cases of load spills involving more common products such as trash or lumber.
Rules Governing Cargo Securement and Transportation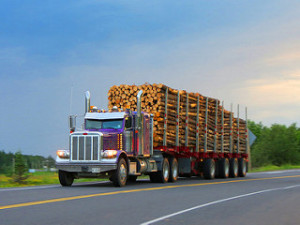 The proper method of loading and securing cargo is governed by several laws at both the state and federal level.  Section 3 of California's Commercial Driver Handbook, titled Transporting Cargo Safely, reviews some state requirements.  Introducing the cargo provisions, the Handbook warns:
"If you load cargo wrong or do not secure it, it can be a danger to others and yourself. Loose cargo that falls off a vehicle can cause traffic problems and others could be hurt or killed. Loose cargo could hurt or kill you during a quick stop or accident. Your vehicle could be damaged by an overload. Steering could be affected by how a vehicle is loaded, making it more difficult to control the vehicle."
According to the Handbook, California truck drivers must inspect loads for balance, weight limits, and to ensure loads are properly secured.
On the federal side, the Federal Motor Carrier Safety Administration ("FMCSA") has created additional rules governing the loading and securing of cargo in commercial vehicles that operate in interstate commerce.  The Cargo Securement Rules include both general rules and specific provisions applicable to certain types of cargo (e.g., logs, concrete pipes, heavy machinery).  At the most general level, the FMCSA requires that cargo is firmly immobilized or secured with sufficiently strong tiedowns or other equipment that supports, protects, and limits the movement of the cargo. More specific and detailed rules address the strength and efficacy of equipment for securing cargo loads.
Additional rules apply to trucks carrying hazardous materials such as flammable gases and radioactive materials.
California Injury Attorney Handling Load Spill Accident Litigation
Load spills can be the cause of an accident or the result.  For example, an unbalanced load may cause a truck to tip-over or jackknife.  In other cases, the cargo spill follows an accident (as it sounds like occurred in Monday's I-680 accident).  With those cases, the failure to properly secure the load may still be highly relevant as it may be a secondary cause that increased the severity of the accident.  An unbalanced load can even turn a fender-bender into a fatal incident.
While some cargo spill stories are amusing given the variety of goods involved, cargo spill accidents can be quite serious and can cause catastrophic injuries or even death.  In these cases, the injured and/or grieving deserve the very best in legal representation.  Experienced San Francisco truck accident lawyer Gregory Brod is committed to exploring all avenues of recovery for load spill victims.  He considers a range of legal theories and evaluates all potential defendants including drivers, trucking companies, and even top-ranking executives.  Attorney Brod also works closely with expert witnesses whose opinions are often essential to proving causation and fault in load spill accidents.
With offices of our truck accident law firm in Santa Rosa, San Francisco, and Oakland, The Brod Law Firm serves all of Northern California.  Call to arrange a no-cost consultation.
See Related Blog Posts:
Bay Area Lawyer on the Danger of Big-Rig Crashes
Holding Trucking Companies Responsible When Mechanical Issues Lead to Tragic Crashes
(Image by Jeremy Rempel, Note: Image does not represent truck involved in referenced spills.)