For many years now, both scientists and lay people have known that smoking is not only dangerous, smoking kills. Smoking, according to the Centers for Disease Control ("CDC"), damages almost every organ in the body and holds the dubious distinction of being the top cause of preventable death in our country. Our Oakland fire injury lawyer notes that in addition to the health danger to smokers and bystanders, cigarettes and other lit products carry a fire risk that can cause additional injuries and fatalities. Cigarette fires are particularly tragic because they are wholly avoidable.
Hayward Home Fire Blamed on Cigarette
Instead of enjoying a leisurely Sunday morning, people on the 25600 block of Soto Road were jolted awake by fire alarms that sounded around 7:15 AM. As The Oakland Tribune reported, the fire began in one bedroom of the two-story home and spread to another bedroom, destroying both rooms. However, firefighters were able to limit the damage to the upstairs. While all three people living in the home were displaced, they did escape. Two cats perished in the fire and two others ran away.
Hayward Fire Capt. Don Nicholson and Police Lt. Ken Forkus were among the team dispatched to fight Sunday's blaze. Forkus told reporters that the blaze was accidental. Captain Nicholson provided more detail, explaining that a lit cigarette was forgotten and ultimately caused the fire. A son admitted he was the one who forgot the cigarette. Nicholson noted that the event could have been avoided had the cigarette been extinguished.
Cigarette Fire Statistics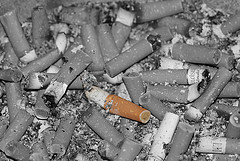 In July 2013, the National Fire Protection Association published "The Smoking-Material Fire Problem," a study of fires involving cigarettes and other smoking materials. The Executive Summary opens with the fact that fire departments in the United States responded to around 90,000 smoking-material fires in 2011 and 90,800 smoking-material fires in 2010. As a result of the smoking-related blazes in 2011, an estimated 540 civilians perished (a substantial drop from 2010), 1,640 civilians were injured, and directly-related property damage totaled around.$621 million. The vast majority of deaths and injuries from smoking-material fires occurred in home structures (490 civilian deaths, 1,370 injuries), with 19% of all home fire fatalities stemming from smoking-materials. Most of the fires themselves occurred in outdoor settings with some 60,200 of the fires involving trash, vegetation, or other outdoor locations and approximately 17,600 occurring in home structures.
Liability for Cigarette Fire Injuries
If you or a loved one was injured in a fire caused by a cigarette or other tobacco product, you may have a civil injury claim. Potential defendants could include:
The cigarette company (ex. a product liability claim based on not making a safer form of cigarette);
Other manufacturers (ex. a product liability claim based on a mattress being made of unsafe, overly-flammable materials);
The smoker (ex. a negligence claim against an apartment building neighbor for failing to extinguish their cigarette and sparking a building fire).
These are just a few examples and the proper defendants will vary with the precise facts. Schedule a free consultation with our Oakland cigarette fire injury attorney to discuss your individual case.
See Related Blog Posts:
Fires, Construction Sites, and Third-Party Injury Suits
Injury Lawyer Discusses Prevention Following Pair of Tragic San Jose Mobile Home Fires
(Image by Flickr user matze_ott)