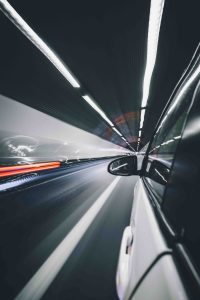 A seven-vehicle crash inside Robin Williams tunnel, a busy commuter route between the North Bay and San Francisco, backed up commuter traffic to Marin on April 18. The accident occurred shortly before 8:30 a.m. and involved a collision between a Ford SUV, a BMW, a motorcycle, and multiple other vehicles. It is unknown why the collision occurred at this time. At least one person was reported injured and emergency medical personnel responded to the scene. No fatalities have been reported and the accident remains under investigation.
This size of a crash inside the busy tunnel is a strong reminder to commuters regarding safety in heavy traffic and enclosed spaces. If you were injured in a similar accident, do not hesitate to reach out to the San Francisco personal injury lawyers of Brod Law Firm. We can review your situation and advise you on the best way to seek compensation for your injuries.
Driving Safely Through Tunnels
Many tunnels you drive through are short and you do not think much about them. However, there is no denying they pose a unique safety risk. With so many vehicles moving quickly in a small space, it only takes one small error to cause a pile up like the one in Sausalito.
To avoid collisions in the dark and limited space, you should:
Take off your sunglasses

Turn on your vehicle lights

Keep a safe distance between you and other vehicles

Slow down and never speed

Avoid changing lanes if there are multiple lanes

Do not try to pass if it is a two-lane road

Avoid braking suddenly
What to do After an Accident in a Tunnel
If you have an emergency or are in an accident in a tunnel, you cannot react the same way as you would following a collision outside. You do not have the same options within a tunnel as you do on an average road or highway. Because of this, think carefully about what you do next.
Following an accident, consider:
Turning on your hazard lights if they still work

Pulling your vehicle into the lane or shoulder closest to the tunnel's side, if possible, to enable traffic to go around. However, do not attempt to reverse or make a U-turn

Remain in the vehicle unless you are able to safely move to the side of the tunnel, out of the way of traffic

If you have them and must leave your vehicle, put on reflective gear or put out reflective warning signs for the other vehicles

If you cannot safely leave your vehicle, stay put until emergency personnel arrive
Do You Need Legal Advice?
If you were injured in a car accident in a tunnel, call our experienced San Francisco personal injury lawyers today. At Brod Law Firm, we understand that driving through tunnels increases the risk of an accident and can even make the damage from a relatively minor accident worse than if it had happened on an open highway. We can investigate the accident for you and help you seek the maximum compensation possible for your injuries. Call us today at (800) 427-7020 to schedule a free consultation.
(image courtesy of Alessio Lin)